IFAS COMPUTER COORDINATORS
(ICC)
NOTES FROM January 8th 2010 REGULAR MEETING
---
A meeting of the ICC was held on Friday, January 8th, 2010 in the ICS conference room. The meeting was chaired and called to order by Steve Lasley at about 10:00 am.
PRESENT: Fifteen members participated.

Remote participants: Tom Barnash, David Baudree, Bill Black, Micah Bolen, Dennis Brown, Dan Cromer, Kevin Hill, Mike Ryabin, and Louise Ryan.

On-site participants: Andrew Carey, Dan Christophy, Chris Leopold, Winnie Lante, Steve Lasley, and Wendy Williams.

Guests: Adam Bellaire


STREAMING AUDIO: available here
---
NOTES:
Agendas were distributed and the sign-up sheet was passed around.
---
---
Member news:
Steve had no membership changes to relate.
Recap since last meeting:
As per his usual procedure, Steve pointed folks to the notes of the last meeting, without going into any details.
---
Videoconferencing and WAN discussion
[In order to make meeting participation more efficient for Patrick Pettus and James Moore, these two topics have been moved to reside at the top of our agendas.]
Videoconferencing topics (previous discussion)
Conference ID for ICC meetings likely to change
Steve had forgotten to request ICC videoconferences for 2010 and they were not in the Event Listing. Consequently, Steve called Patrick right before the meeting and got that arranged again. Today we are on the same "7831999" number which we have been using for some time, but that may change come February, so make sure you check the Event Listing at http://video.ufl.edu next month. Steve noted that he will be unavailable for February's meeting and he is leaving it up to Dennis Brown whether or not he wants to hold the meeting in his absence.
End-user Scheduling
Steve assumes this is still a plan in progress.
Codian bridge replacement being investigated (previous discussion)
Dan Cromer related that things are proceeding and that Dr. Machen was apparently being approached yesterday with the plan which Dan had detailed to us last meeting, though Dan had not yet heard back the result. This proposed Green initiative proposal requests funding for eCALs (and thus OCS usage for all) in addition to the first year of a three-year lease for a new bridge.
Connecting to a bridged VC via Office Communicator
Dan Cromer pointed out that, while we are waiting on a new bridge to make OCS integration easier, OCS connections can be arranged using our present equipment. Dan explained that we have three 40-port Codian bridges currently, with two being used for production and a third as backup/test. The test bridge (128.227.156.86/ext.7820000) is where the "AT-CDMCU-3" OCS inter-connection resides currently. Joining those OCS connections to a bridged event, however, is still a manual process for Video Services and they must be made aware of the need prior so they can do that after an event begins.
Louise Ryan has done a good job of documenting connecting Office Communicator to the Codian video bridge from the end-user perspective. Steve needs to update the ICC meeting page to indicate this new connection method. Dan Cromer has also added several pages to the UF IT wiki on the topics of Office Communicator, Live Meeting, and videoconferencing and would like to encourage others to participate in that documentation effort.
WAN transition to CNS (previous discussion)
Updates from James Moore
James did not make it to today's meeting and was therefore not available to provide an update. It was mentioned prior to the meeting, however, that the first six Foundry switches were finally deployed at Belle Glade (approximately two years after the WAN was outsourced to CNS) about one month ago. Apparently, of those six one has already failed. It was also mentioned after the meeting that the Foundry equipment doesn't seem to handle the Cisco scheme for VLAN bridging; that lack of support was surprising since Foundry had been touted as having a superior degree of Cisco compatibility--which was one rationale for its adoption by CNS as the IFAS standard.
---
Policy
---
ITAC-NI still meeting (previous discussion)
The committee did not meet last month, but is scheduled to meet this coming Thursday. Meeting minutes are available via the web.
Chris Leopold wanted to make all aware of the UF plan for implementing IPv6 which had been unveiled at the November ITAC-NI meeting. It is the goal of that plan to get all of UF up and running on IPv6 by June of 2012. There is a much shorter timeframe for things like e-mail and web servers; those are expected to be ready by June of 2011. Chris tied this issue into our IFAS VPN agenda item.
Course Management System Conversion to Sakai 3 (previous discussion)
Steve had no updates but wants to keep this on our radar.
myuf Market (previous discussion)
Steve wants to keep this on our agendas in case discussion seems warranted.
UF Exchange Project updates (previous discussion)
Junk E-mail folder will no longer be populated by Exchange
Steve wanted to remind folks that this is coming, as mentioned at our last meeting.
Centralized FAX service via Exchange (previous discussion)
Steve asked if anyone had contacted Erik Schmidt about this matter. Apparently no one had, but this is likely due more to lack of time than lack of interest. All of the ICC seems to see the wisdom of heading in that direction.
Office Communications Server (prior discussion)
The topic had been discussed somewhat earlier in the meeting.
Split DNS solution for UFAD problems
Steve wants to keep this on the agenda for future reference.
---
Projects
---
There continues to be no progress on the documentation which was to happen prior to announcement. Since this has never been formally announced, the matter remains on the agenda as a standing item.
Windows 7 Deployment via the WAIK, MS Deployment Toolkit 2010, USMT 4.0, WDS, and SCCM
Windows 7 deployment
Steve wanted to mention that Micah Bolen has suggested Daniel Solano, who is investigating the use of SCCM for desktop OS deployment, be listed along with himself as the contact for our Windows 7 Deployment agenda items. Daniel is amenable to that and Steve will include Daniel on upcoming agendas. Those two are definitely the ones to contact regarding working towards coordinated Windows 7 deployment.
Micah has begun to migrate more users to Windows 7 even though he hasn't perfected deployment. Using his current LTI method is still a HUGE time-saver compared to traditional clean installation methods. He has not yet actually tried to install SAS on a Windows 7 machine, but general consensus among ICCers is that it is very possible. He is going to test it out and then get rid of all the WinXP VMs he is currently using for that. Upon digging deeper into the mechanics of USMT 4.0, it appears to Micah that more advanced migration methods like hard-link migration were primarily intended for use in deployment methods with SCCM. He is still trying to reach the limits of what he can do with WAIK and MDT alone and believes he can accomplish much more with only those tools, but he is also beginning to see where SCCM will play an essential role.
By next week Daniel expects to have a basic Win7 image. He is going to keep that simple because the plan is to push everything else (applications) via SCCM. Also next week he hopes to work with Andrew Carey to set up the "boot to NIC" feature in a test subnet and then to try the WinPE image he has created via PXE. Daniel will also have a WinXP image available just in case.
Steve mentioned that any ICCers who have a test machine available should contact Daniel Solano to become part of the deployment test environment. Steve mentioned that he has done so himself.
Exit processes, NMB and permission removal (prior discussion)
Nothing further was available on this topic at this time.
Re-enabling the Windows firewall
Wayne Hyde has this on his to-do list, but has many competing tasks currently.
Services Documentation: Is a Wiki the way? (prior discussion)
We didn't discuss the matter this month, but Dan Cromer and others have begun posting new documentation on the UF IT Wiki.
---
Operations
---
Membership of ". IFAS-ICC" email distribution group to be narrowed to ICC members only
Steve still plans to request that the ". IFAS-ICC-fans" security group be mail-enabled so he can add others such as Dwight Jesseman into our meeting notices using that group. Again, the idea is for that group to contain all ICC-L subscribers who are not in the ". IFAS-ICC".
IFAS efforts toward Green IT (previous discussion)
Chris Leopold pointed out that there had been recent discussions on the Windows-HiEd list (see archives if already a member) concerning the use of EZ GPO which is a free US government tool that provides Group Policy Objects for centrally configuring power management settings on XP machines. Windows XP is much more difficult to manage with regards to power concerns than the new platforms and this tool is one possible option for helping manage power settings that platform.
Chris believes it would be wise to develop a tentative plan before some, perhaps less palatable, solution is push down to us from above. Steve suggested that we might begin by developing a plan for the more manageable Window 7 platform; that would allow us to ease into things as deployment of that platform proceeded. It might also be a good idea to discuss guidelines for purchasing more energy efficient equipment down-the-road.
Andrew Carey also noted that Configuration Manager 2007 R3, which is scheduled for release late in the first quarter of this year is supposed to provide "a set of tools to allow the site administrator to configure standard Windows power settings across computers". That might be another potential option looking ahead.
Creating guest GatorLink accounts: singly or in bulk (prior discussion)
Steve had left this on the agenda in case further discussion was deemed warranted.
Can IFAS support DirectAccess in the future? (prior discussion)
Steve wants to keep this topic on our radar. From his brief readings the concerns over this solution being dependent on IPv6 may not be the major hurdle to implementation. Steve would suggest that this issue be raised to UFAD, Network Services and UF Security for eventual consideration as a UF-level service. This might be a good topic to raise at an upcoming ITAC-NI meeting.
Moving away from the IFAS VPN service (previous discussion)
Chris Leopold proposed that we consider keeping the IFAS VPN around at least until the IPv6 implementation is finished. At that time he believes we can consider other options such as DirectAccess. Moving our VPN to private IP is waiting on Wayne Hyde finding the time to implement.
VDI desktops as admin workstations (previous discussion)
As mentioned last meeting, this is another cool service that Wayne has in progress and which is awaiting sufficient time to pursue further.
Wayne's Power Tools (prior discussion)
More stuff from Wayne is pending him finding the time to work on this.
Folder permissioning on the IFAS file server
You are reminded to please take the time to read and implement the new standards. If you have any questions get with Wayne or Steve.
Disabling/deleting computer accounts based on computer password age
This is yet another matter for which finding time for implementation is proving difficult. Steve wants folks to remember that Andrew has a good plan for dealing with this which he simply has had no time to address.
Steve planned on asking for an update, but Andrew indicated after the meeting that there was little to report other than the first test deployment will be implemented at Fisheries fairly soon now.
Wayne was out sick with a bad cold over the holidays and is still trying to catch up. More storage space is now on order for the SAN, but the vSphere4 upgrade which Wayne hoped to accomplish over the holidays has now been delayed due to licensing issues.
Wayne was unavailable for an update, but after the meeting Winnie Lante noted that ePO had become unresponsive. Wayne "kicked" it back into action but plans to deploy ePO 4.5 patch 1 (released at the end of 2009) this weekend to fix a problem we just hit. There is a folder which cached old DATs that grew out of control and blew up the service.
Status of SharePoint services (prior discussion)
IFAS has thrown financial support behind centralized MOSS
Steve failed to ask Dan Cromer if he had any new information to relate since this was discussed at our last meeting.
Public folder file deletion policies and procedures status
Nothing further was available on this topic at this time.
Microsoft
The January Microsoft patches will include only a single critical updates for Windows. A podcast summary of these patches is expected to be provided by "Security Bulletins for the regular IT guy".
MS Office News update
Steve noted that an Outlook calendar bug was recently reported that affected even the 2010 Beta.
Job Matrix Update status
This is here as a standing topic--no discussion this month.
Background concerning upcoming changes
Dan Cromer had mentioned some planned modifications to Remedy previously and had requested that Adam Bellaire attend this meeting to explain. Dan said that the first step toward being able to assign tickets between our system and CNS (for example, as we wish to do with our WAN issues) is to move IFAS to the same interface which the rest of campus has been using for the last two years.
Adam was kind enough to demo the new interface so we could see what that would entail and whether or not it would meet our needs as is or might need some tweaking. Adam explained that the UF Help Desk has been using this new interface for the past two years and that the integration with CNS was done on this interface.
Front page has been simplified
The new interface replaces a number of text boxes used on our current interface (see below) with a single box which will accept UFID, GatorLink, name or Ticket number and understand the context. This makes for a simpler initial interface.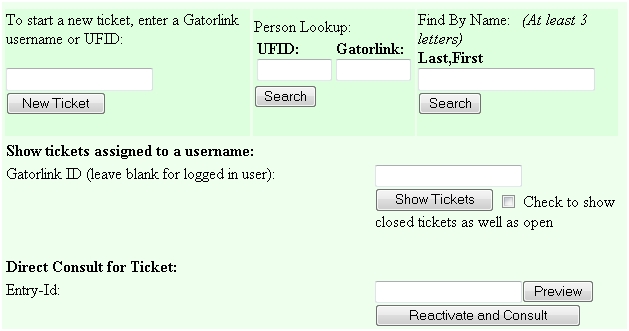 Adam can tweak the "Assign to" function for us
Adam asked whether we used the "Assign to" function (shown below) much. When we indicated that we did, he suggested that he might be able to tweak things to make doing that a bit easier. It is possible currently, but takes several steps (Custom Search > Assignee Search > and enter username).

The queue view will be adapted for our use
The queue view under the new interface is fairly similar, though Adam did note that the "Network Dept" ID column is missing from the new interface and we would likely want that added. Adam said that he would assume that we would want to see all the same columns of information (shown below) and proceed accordingly.

Ticket view improvements
Adam then showed us the ticket view; this is the portion which is perhaps the most changed from the way it is in our older interface. All the information listed on the top of our current tickets will be shown on the left of the new ticket view. Also the ticket action and description logs are now merged together chronologically rather than listed separately as they are in our old interface.
The UF Directory Lookup Tool is still available, just in a different location.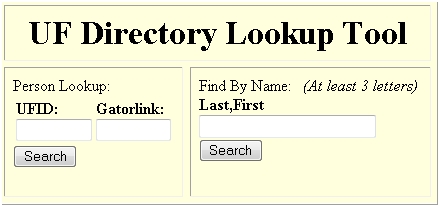 Questions: reporting
Adam asked if there were any other issues we saw in addition to making it easier to assign tickets and including all the columns in the ticket queue table. Dan Christophy responded by asking if there was an easier way to run reports within the new interface. Adam said that reporting tools existed but that they were fairly complex. While he has written a "Remedy Reports Guide" describing its features including screen shots, most seem to need some training in its use as well. Adam said he would be glad to provide training should we wish. He quickly demonstrated some aspects of what was available. There are pre-built reports which provide ticket counts based on various criteria. The UF Help Desk uses this to see how many tickets are backlogged each morning, for example.
The reporting interface is loosely based on what one would do with Crystal Reports where you give the report a name and then specify which tickets the report should include. You could, for example, select tickets within a particular time/date interval or that have a match within a particular field for some value. It has the ability to do some calculations based on elapsed time or tickets that may have been touched by certain users. Then you have an area where you create the actual tree structure defining how you wish the selected tickets to be displayed within the report output.
Questions: controlling to whom a ticket may be assigned
Steve asked about our custom Network Managers database which currently controls who can be assigned tickets. Adam suggested that we follow what is currently done within the new interface whereby a ticket can be assigned to any of our staff (i.e., all those who have been granted access to the Remedy system). All seemed to agree that this would be fine as it would avoid the issue of needing to modify our IFAS SQL table prior to being able to assign tickets to a newly hired OU Admin. That table still needs to be kept updated in order to indicate the appropriate Network Manager(s) associated with a ticket, however. Dan Cromer indicated that such editing is done currently in a crude fashion using raw SQL queries within SQL Manager and that we need a simpler method of handling that; that is an IFAS issues, however, and not a direct concern for Adam.
Questions: viewing ticket queues for various campus groups
Dan Christophy asked if the ticket queue view for us would be restricted to just IFAS tickets. Adam responded that we would see just IFAS queues by default, but would have the ability to click a "show all sections" toggle which would allow the viewing of tickets across all queues. Dan Cromer commented that this latter capability would be nice to have on occasion.
Questions: sending tickets to other units (e.g., CNS)
Steve asked about how this would permit sending IFAS WAN tickets to CNS; currently that can be done with the IFAS Remedy interface by using the "Refer by Email feature, but corresponding tickets must be generated on the CNS side manually and can fall through the cracks. Adam responded that the new interface has a "Refer to CNS" option which actually creates a ticket within CNS and copies the relevant data over to their ticket.
Questions: test environment
Dan Cromer asked if there was a test environment and Adam responded that there was. He indicated that they could make the few changes we need on that first if we wanted to do a trial run. The ICC didn't really feel that there was any need for using a test environment initially since the changes should not be difficult and such a test phase would delay implementation.
Questions: implementation timeline
All ICC members thought we could go ahead with the transition as soon as Adam could implement it. Adam wanted to make the change at the beginning of a week so problems could be addressed prior to the weekend. Since he just now returned to work and has a backlog he felt he could have this ready for us by Tuesday, January 19th.
Adam pointed out that even though we will be ready, we have yet to get official word from CNS that they are ready for us (to transfer tickets). Dan Cromer responded that Marcus Morgan has been saying that getting IFAS on the new Remedy interface is a prerequisite to doing that. Once we are on the new interface, Dan can press CNS to make this a "go".
---
Other Topics
SMB v2 re-enabled?
SMB 2 had been disabled on our file servers due to a remote code execution vulnerability. Steve again meant to ask Wayne if that has been reversed now but that didn't happen.
PDF-Xchange (prior discussion)
Steve points out that while any PDF solution will require patching at times (see the latest vulnerability for PDF-Xchange), this solution would permit simple updating of a single shared run point. Implementing such a solution would decrease our potential attack surface and Steve would like to leave this on the agenda for continued consideration.
---
The meeting was adjourned considerably early at about 1O:56 AM