IFAS COMPUTER COORDINATORS
(ICC)
NOTES FROM May 8th 2009 REGULAR MEETING
---
A meeting of the ICC was held on Friday, May 8th, 2009 in the ICS conference room. The meeting was chaired and called to order by Steve Lasley at about 10:00 am.
PRESENT: Twenty-one members participated.

Remote participants: David Bauldree, Bill Black, Micah Bolen, Chris Fooshee, Kevin Hill, Kamin Miller, Stephanie Miller, Louise Ryan, and Mitch Thompson.

On-site participants: Benjamin Beach, Dennis Brown, Dan Cromer, Francis Ferguson, Wayne Hyde, Jack Kramer, Winnie Lante, Steve Lasley, Chris Leopold, James Moore, Santos Soler, and Wendy Williams.




STREAMING AUDIO: available here.
---
NOTES:
Agendas were distributed and the sign-up sheet was passed around.
---
---
Member news:
Member news...
Steve wasn't aware of any membership changes to report.
Recap since last meeting:
As per his usual procedure, Steve pointed folks to the notes of the last meeting, without going into any details.
---
Policy
---
At a recent Entomology Faculty meeting, Steve heard Mark Rieger say that WebCT is expected to be replaced with Sakai (Open Source) and/or Angel Learning within a two-year timeframe. Apparently, Mark is on a UF-level committee looking into the matter. As a further complication, Blackboard plans to buy Angel Learning.
Dan Cromer was able to provide additional information on this from a meeting he had attended with the Elluminate group here on campus. That meeting was attended by Doug Johnson, among others; Doug had visited with the ICC back in August of 2007. The decision has been made to go with Sakai 3.0 which will be released in January, though the committee was not unanimous in its support.
Steve asked Dan if he knew what led to the decision to drop Blackboard. Dan responded that support has been very poor. Cost-wise, UF will be paying $10,000 to be part of a multi-university consortium which will provide shared support and coordination for implementation. Dan noted that we have been paying about $2 million a year for Blackboard in total, including the hardware and support costs; the software costs account for $500-$600 thousand of that.
Winnie Lante asked about the timetable for implementation. Dan replied that UF hopes to have a system running by July of 2010 and Blackboard will be maintained in parallel for one year. The final production system is planned for Fall 2011.
You may view one of several hosted online trials of Sakai to see for yourself what it is like.
WAN transition to CNS (previous discussion)
A brief history
Back in late 2007, IFAS approached CNS requesting proposals to take over the IFAS WAN and ITSA groups. Nothing was said on this matter, but rumors grew and Steve tried to raise discussion both at the ICC and at ITPAC. Eventually, Steve and Chris Leopold were given the opportunity by Dr. Joyce to review the proposals and supply feedback; they were told to keep it to themselves, however, and Steve was not to share the information with the ICC.
As we know, the proposal to take over ITSA was declined, and the WAN proposal was accepted. The original draft WAN proposal (6 March 2008) which Steve and Chris supported, however, changed considerably as things began to move ahead. Most notably:
Cost estimates proved low. The annual fee which was originally quoted at $100,000, was raised to $120,000 per year and Cisco switches were replaced with less expensive Foundry. Even with these changes, shortfalls are envisioned in remediating equipment to the new CNS standards.
CNS was going to support IFAS network ports on campus (about 2829 ports on 111 devices) at sites not currently Wall-Plate. Since this would have freed Chris from network duties comprising about 75% of his time, the proposal was seen as a means of bolstering FTE within the server administration group. This item was later dropped from the proposal.
As a result of these realities, the WAN transition has not supplied the envisioned relief to the server administration group. On the contrary, there is some concern that the WAN transition may actually harm ITSA's situation should it pull extra funds from the IT budget.
CNS attempts to improve the transition
Since the discussion at our last meeting CNS has been working with Chris Leopold to try and minimize costs while still maintaining a level of standardization which they believe they can support. This has resulted in new SLO document revisions. Some of the issues that have been resolved include:
Questions had been raised as to the warranties for the new Foundry switches which CNS will be deploying and how failures outside that warranty would be handled. Dan Miller had responded that these switches come with five-year warranties and that replacement of devices which failed outside that period would be paid for by CNS from the WAN equipment budget. They will have spares on hand to speed recovery efforts.
CNS has specified that consumer level equipment must be replaced, but have stated their intention to be very flexible in how and when that is done. They are planning to cover most of the costs for replacing centralized consumer grade switches by using older Cisco switches obtained from Wall-Plate upgrades.
While trying to make the transition as painless as possible, CNS feels they need to insist on this remediation for:
better reliability,
better and easier remote troubleshooting,
avoiding future rogue wireless APs and switch/routers i.e. network chaos.
CNS is concerned that problems with non-standard devices will be perceived as CNS network problems regardless of repeated disclaimers.
ICC recommendation sought on SLO
The new CNS standards clearly seek to improve the overall WAN situation, but the full cost of that will not be appreciated until a discovery is completed on all network devices. We need to learn what is out there and where in order to estimate what the proposed remediation will cost.
Steve would urge those IT folks supporting remote units to take a detailed census of their consumer grade equipment and get with James Moore and Chris Leopold to identify equipment which is not considered centralized. At some point, new wiring will have to be deployed in order to replace such ports with managed devices. Support folks should begin to evaluate the timing and the costs for making those changes. CNS has emphasized that no ports will be shut down until replacements are ready, but Dan Miller has also said that they may have to refuse to support certain devices in some cases until they are replaced.
New SLO draft walk-through
Steve then pulled up the latest version of the SLO draft and pointed out the changes which had been implemented in that document since our last meeting. After a brief run-through of that, Steve turned it over to James Moore.
James Moore on remediation
James began by saying that it was good that we had all the District IT Support in attendance. He then went on to describe the remediation challenges ahead of us and the flexibility which CNS intends to provide.
Using a hypothetical CEO, James related that what has commonly occurred is that a need for multiple network connections has arisen at locations for which only a single wire was available. As a result, someone at those sites has gone out to a local consumer electronics store and bought a wireless router as a solution. That was an inexpensive solution that was easier and faster to install than structured wiring.
CNS plans to address the wireless aspect of this in most cases by the deployment of new Cisco WAPs. CNS is interested in getting those routers off the edge, but they are not interested in killing somebody's service by rolling out an upgrade. James said it is pretty hard to call it an upgrade when they get less service in the end. The "network police" are not going to come and rip the consumer level equipment from the desks. CNS just wants to identify them so we can begin to work on remediation as money becomes available.
James said that a number of interim solutions are possible. We might do such things as throw a non-standard long jumper in the ceiling in lieu of structured cabling. If a distributed location needs extra ports right away but the wiring will take longer to arrange, CNS can temporarily supply a managed switch at the edge--provided it is understood that the wiring will indeed be addressed. The main point is that CNS then knows about the arrangement and understands what equipment is out there and where.
Clarification on temporary distributed switches
Ben Beach, NE District support, asked James if the temporary switch mentioned previously would involve an upgrade charge. James responded that there should be no charge; these situations would likely be handled via switches recovered from replacements at CEOs or from refreshes of the campus Wall-plate program. In either case it would be an enterprise class switch that was manageable remotely.
Wireless modems
Ben said it is his understanding that under the agreement IFAS is responsible for purchasing any modems. ISPs, however, are now offering modems with built-in wireless. One such example is Dixie county. Ben wondered how this aspect would be handled because such devices will be arriving onto our networks as our DSL modems are upgraded at various locations.
James responded that they are going to have some meetings next week to decide on how authentication is going to work; those decisions will impact whether or not we can use such wireless APs. James said that CNS would not necessarily want to neuter what amounts to free wireless external to UF; rather they would be interested in making sure they were configured to avoid things like double NATing. They don't want to see a bunch of hosts coming in on one IP. In any case, it will be a design issue which CNS will work on with the IFAS Technicians.
Chris Leopold stated that he did not believe that wireless integrated into DSL modems would be useful. The new design is going to have the cable/DSL modem in front of our router. There is no way for that wireless to go behind the router in such cases. Technically, such wireless would be outside the UF network.
Ben pointed out first of all that CNS is the upgrade point of contact for modem purchases; IFAS can't just nonchalantly go out and purchase these modems. Secondly, Ben said that the modem itself is going to have to have routing NAT on it for the wireless which means that the DSL coming into the office will automatically be hit with a NAT. James responded that most modems do NAT anyway, but they are routinely configured in bridged mode which essentially just passes things through so that the modem NAT function is bypassed.
James said that there might be a way these integrated WAPs could be utilized in certain situations. CNS would have to investigate. In general, CEOs are simple, but you will have special instances like Lake County where they have multiple buildings at the CEO. That one AP is going to be trivial compared to the need for overall wireless coverage.
James feels that a lot of the cost considerations will have to be handled on a case-by-case basis, especially considering how funding is handled differently among the CEOs. Sometimes the county is paying and sometimes the CEO itself has to foot the bill. Sometimes IFAS IT steps in and provides some financial assistance. The RECs have a mix of grant-based funding and central funding and each of their cost models will be unique in many aspects.
James also reminded us that UF has a new security structure and that group will have a lot to say regarding how we handle network access. Security auditing will receive greater focus as we move ahead.
Question from Louise Ryan, NW District Support
Louise mentioned that she had deployed a number of HP switches which were paid for by the counties. She presumes that this means UF is not going to be able to take those back or trade them; consequently, she is confused as to what is going to happen there. Dan Cromer responded that this will be handled on a case-by-case basis as James had mentioned.
James pointed out that while the CNS Cisco discount (60-65%) is based on a port-for-port exchange, the Foundry arrangement is different and provides us more options as we get a discount regardless of trade-in. James feels we should be okay even if a county doesn't want to trade-in, but rather seeks to redeploy switches displaced by CNS upgrades for their own use in some cases.
Can HP equipment freed-up by Foundry deployments be repurposed by IFAS for on-campus non-Wallplate sites?
Chris Leopold asked James if this was a possibility and James thought that it would be. Chris said he would raise the matter separately to Dan Miller. The reason Chris wants this is that IFAS has a large number of on-campus buildings (43 buildings, many in the IFAS Farm Area) which are not yet even on the Wall-Plate schedule. He wants to find inexpensive ways to get those better managed in the interim.
Comments from Francis Ferguson, Central District
Fergie pointed out that Lake County is going to be a special case. This CEO has a lot of activity which is not always IFAS related, but rather county related. They have asked repeatedly for wireless Internet access and he has been telling them it is not available at this point. James responded that CNS will be deploying wireless, but he will not be the one doing a spectrum analysis and wireless survey investigating where the best deployment points will be; CNS will rely on the IFAS Technicians to help James address that aspect.
Fergie added that Lake County is adding another building beginning in June for which they want access. Because of this as well as the way the buildings are constructed, at least three WAPs will be needed. James said that these things can be discussed as the design moves ahead. CNS is still trying to figure out how many APs they can fund for rollout each year. It will be a case-by-case matter, but 2-3 APs may not be an issue. CNS also has a lot of APs recovered from Wall-Plate replacements which might provide some other options.
Upgrade costs
Dan Sheridan had supplied upgrade costs via e-mail during the meeting which Steve failed to note: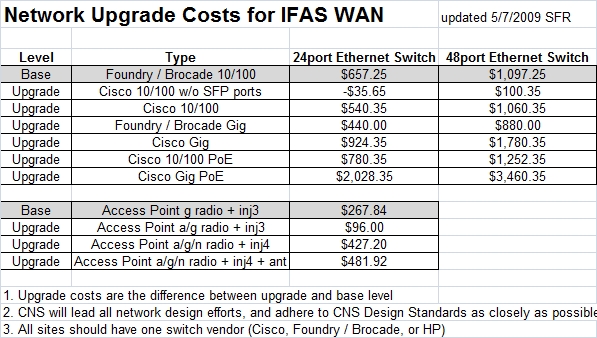 Comments from MREC in Apopka
Chris Fooshee mentioned that they have a separate issue because of the College of Pharmacy's presence, but otherwise he feels they are in pretty good shape for the most part. Mitch Thompson asked about the use of hubs and whether or not they were as much of a concern as routers; he noted that it is not always easy to get extra jacks put in.
Steve noted that the SLO as currently written would require first a discovery of exactly what is out there currently. Those will be handled a little differently than any new ones which might come in later; they want to strongly discourage such devices being added in the future. We can't continue business as usual. There will be some period of time over which these consumer level devices will have to be remediated and the details will have to be worked out at each site.
James added that CNS needs help in documenting things at each site. Beyond hubs and routers, they also would like to know about the locations where UPS and media convertors are being used on the network. They would like to know how old any UPSes might be and when the batteries were last changed if that is known. Those sorts of things are transparent and IFAS Technicians will be counted on to provide those details.
Fergie mentioned that this county has two offices, one in Cocoa and another in Palm Bay. Both offices have undocumented WAPS which he believes CNS would classify as "rogue". Fergie added that they would give up those access points screaming and kicking because they are used internally by agents with laptops for their daily work. He wondered what the plan would be there.
James responded that we will eventually need to address that with whatever authentication plan is decided upon. CNS will eventually replace those WAPs with managed equipment, but we need to get the authentication issues resolved for those who currently do not have Gatorlink IDs. In any case, CNS is not going to remove anything until they have a replacement ready.
IFAS Technician concerns over being stuck in the middle
Fergie related his concerns regarding service replacement at places like Lake County. He believes communication between himself and Jim Fletcher would be non-productive on such issues and would lead to grave trust issues between himself and those whom he supports.
Ben Beach agreed, asking for advice on how to handle a county office that might be totally against any of the changes we are trying to make. Dan Cromer responded that the process for opt-out is documented in the SLO. Directors would not discuss such matters with the IFAS Technicians, but rather with Dr. Ferrer or Dr. Arrington. Ben said that his primary concern was not in talking with the Directors, but rather how coordination with CNS would work in these cases.
James responded that the portion of the SLO which mentions temporarily removing devices from the network has to do with troubleshooting. James envisions the following once full discovery is completed and CNS knows what is out there: A user might contact Ben and say that his access isn't working. As CNS looked into the matter they might find via the MAC address that the problem is arising from a non-standard device which has been added to the network. At that point CNS will stop troubleshooting because the problem is beyond their range of support. Ben would be informed of this but CNS would not disconnect such a device; Ben could continue to assist at that point.
Dan Cromer said that there should never come a time when an IFAS Technician will have to walk into an office and say they have to remove a device right now. Rather, they may need to explain that UF security practice requires managed WAPs and then ask how such a remediation might be handled. It will be a matter of working with the various sites to arrange how this can best be handled. This is not CNS dictating something independently, rather these are UF security standards which must be upheld.
Post-discovery things will be handled differently
Once discovery is finished, however, our processes going ahead must change. At that point the addition of consumer level equipment will not be permitted according to the SLO. It will thus be very important that Directors are made aware of this during the discovery process. Any problems they may have with that need to be worked out at the higher levels and the sooner that is done the better.
James added that emergency needs would still be accommodated as was feasible. As mentioned previously, temporary managed devices can be utilized for example while awaiting the time/funding to pull wire. Those would be a documented workaround rather than someone simply doing something behind the scenes.
Universal security requirements for UF employees
Dan Cromer stated that he fights a continuing battle week after week reminding UF IT that IFAS has people who are UF employees all across the state. Those people need to be provided full participation in UF. This means we need training for such remote individuals to be available via Polycom, for example. This is a double-edged sword, however. If you are a UF employee then you must conform to UF security processes. Whenever that security plan gels it will apply to all UF employees. That means that the WAPs in the CEOs and RECs will have to conform to the same security requirements that apply on main campus.
Chris Leopold pointed out, however, that such things are complicated by our relationships with outside organizations like the USDA. Dan responded that we certainly want to assist everyone in doing their jobs, but it has to proceed under best business practices for UF. We can't continue to have the security exposure which we have had in the past. Being able to go onto a wireless device unauthenticated and being able to do whatever it is you want is not appropriate.
Comments from Kevin Hill, South District and SWFREC support
Kevin expressed concern that this SLO was "cherry picking" certain standards from the Wall-Plate initiative and extending that to the WAN while at the same time leveraging only 4.5 FTE for making that happen. Kevin believes this introduces so many opportunities for finger-pointing and for the ball to get dropped in terms of providing service to the end user.
Kevin stated that he feels it his job to make sure that others are able to do theirs. Kevin is concerned that this SLO will create a situation where budget shortfalls and lack of responsiveness due to inadequate support personnel, will combine to interfere with people being able to do those jobs.
Kevin's preference would be to truly extend the Wall-Plate initiative to the WAN by providing the same life-cycle replacement and funding levels/sources rather than piece-mealing things on a case-by-case basis. It should be end-to-end and it should apply the same both on campus and off.
Kevin pointed out that there will be a tremendous amount of work and coordination involved in providing the discovery and remediation which this SLO proposes. The proposed staffing levels are inadequate for doing that.
Network quality vs. budget constraints for getting the job done
Steve asked whether or not improved standards, once implemented, might make managing things easier overall. Kevin responded that he supports many consumer level devices and that they are doing what is needed currently with very few problems already. Furthermore, such devices provide him with instant troubleshooting access; he knows where to go and what questions to ask.
Kevin wasn't suggesting that this is the best situation; he agreed that it would be better to have multiple drops connected to managed switches. But he feels you need to have the flexibility to provide situational ethics. People have a job to do and you have to address that as best you can with what budget you have available. Kevin mentioned having fiber connected at most locations via transceivers rather than GBICs because that was all he could afford to buy.
When Chris told him to hold on because Foundry was coming, Kevin responded that he had no problem with that. He does, however, see many opportunities for disconnects in providing service to the end user under this agreement. That is why he is hesitant about embracing it altogether. The funding is the biggest aspect; IFAS is going to have to fund many things which will need replacing and the question is where is that money going to come from?
Comments from Bill Black, South Central District
Bill admitted he was still absorbing what had been said so far, but he believed Kevin stated the issues very well. Bill has been talking with the Okeechobee CEO because we are getting ready to locate a DC and MPS there for the first time. They are concerned about their connection speed with that because they are currently having problems due to use of their Polycom system. They are wondering what the cost of improving that connection might be. Money is a huge concern at many of the CEOs; they simply don't have it.
Wall-plate for the WAN would require up-front remediation
James said that most of the IFAS buildings at WAN locations would not qualify for Wall-Plate in any case, even if we were to deploy at those levels. It took considerable expenditures from IFAS to get a number of our campus building qualified for Wall-plate. If we went that route, then the remediation we are speaking of would have had to be done up-front.
James will not enforce wiring standards even though he would encourage them. CNS is not handling layer one with this and James is not about to tell others how to do their job. He would like to work with them, however, because the way wiring is handled does impact his job. If we had better cabling and physical infrastructure then the interface between the field tech and the guy sitting looking at the router would be a lot smoother. CNS is expecting daisy-chaining of buildings with this project, however.
New construction will employ higher standards hopefully
James hopes that any new renovations could be coordinated with IFAS Fac Ops so that PECO funds could be considered and anything new would have home-run fiber and enough outlets in a room to support needed connections. Wireless will be an interesting funding issue and we will really have to work together to get that taken care of. The remediation will be different case by case, however.
Discovery and documentation is job number one
The main concern is learning where things are and documenting them. While James will be the one doing the majority of these upgrades, CNS wants to be able to have things documented enough that other engineers can assist when he is busy or otherwise unavailable.
The role of the ICC in the WAN transition
Steve asked Dan Cromer to clarify what role he wanted the ICC to play in all this. Dan responded that Dr. Joyce would like the ICC to say that they have read the SLO and as a group approve it. Otherwise, he would want to know where it would need to be changed so that the majority of the ICC would approve it. If that can happen, then the next step is to take this to ITPAC for their consideration. These steps and this SLO document are a formalization of what is already taking place. We have already outsourced this task to CNS but we lack this formal document to clarify expectations.
Steve believes that the SLO is just one factor which needs to be considered. Perhaps more important is gauging the costs which IFAS will incur in raising their WAN networking standards and considering how we might actually afford it. There are a number of ways of addressing remediation costs apart from what currently seems to be a "wait and see" attitude. Some possibilities include:
pay the remediation costs up front via an arranged multi-year rollout agreeable to CNS
negotiate a level of recurring equipment funds under which CNS will remove the remediation clause from the SLO
make each remote location fully aware of their cost burden for joining and provide them the choice of opting out or paying the remediation (with or without subsidy)
Shouldn't an accurate calculation of the cost be our highest priority?
Steve believes that these other options are worth considering, but most importantly that a clear picture of the overall costs are necessary regardless of direction. When Steve first realized that his department was being pushed to the Wall-plate the first step he took was to complete a census of his equipment and calculate what the remedial costs might be. Steve is surprised that Dan has not been actively promoting similar steps for the WAN. It seems to Steve that we need to get accurate data to those in charge of the funds, the VP and the directors, as soon as possible.
At first Dan responded that it doesn't matter what it costs overall because we only have a certain amount to devote to this and we will not be able to proceed any faster than the funds allow. Then Dan admitted that we should continue with a cost analysis in parallel with the SLO approval process.
Is the SLO relatively separate from the cost issue?
Chris Leopold said that most all the issues which he had with the SLO have been addressed via the revision process. The majority of his concerns over the WAN transition relate to budget matters which remediation will necessitate. Steve agreed that he has few problems with the SLO itself as now written and he understands why CNS has to insist on standards. The remaining issues seem to Steve to be mostly funding issues internal to IFAS--not matters relating to the agreement between IFAS and CNS as addressed by the SLO.
Kevin Hill wasn't convinced. He asked if we signed off on the SLO, would the failure of a consumer level switch identified through the discussed discovery process require replacement by multiple wire pulls? Chris Leopold said that this would not be the case; recovered switches could be utilized until wiring remediation was financially feasible. Kevin was further concerned then at the how quickly such a fix could be applied. Chris said one option would be to plan to have some spares already on site for such purposes. James said overnight delivery is their usual response to such emergencies.
Chris Fooshee said that he would prefer to see the discovery process completed prior to voting on the SLO. He thought that might be eye-opening for some units. Steve responded that Chris and Mitch would be the ones doing the discovery at Apopka and if they had any questions about that they need to get with Chris Leopold and James Moore. Chris Fooshee said he still believed it would be advantageous to have all that data prior to a vote. Steve responded that he didn't believe we would be doing anyone a favor by delaying the SLO; discovery is likely to be a lengthy process.
Steve suggested that we might be giving undue importance to the SLO. It is not the case that a vote on the SLO by the ICC will make or break things either way; the ICC doesn't have that kind of power. If the entire project proves ultimately intractable due to budget considerations then this SLO won't have much impact on things anyway. Furthermore, as pointed out by James Moore, this is a living document which will be subject to change as needed. Getting some formalized agreement arranged as soon as possible can only help things going ahead.
Kevin wondered whether the SLO should mention remediation of circuit capacity for the types of activities being conducted at a site. Steve responded that he believed this to be more of a funding issue than a matter for the SLO. The SLO does mention that IFAS is responsible for paying for all the data circuits. James said that connection speed is a consideration in the service quality and in the recommendations CNS would make to IFAS, but it is IFAS's call whether or not to accept those recommendations.
Kevin suggested that we should remove Polycoms from locations which had insufficient capacity to support them as having them leads to unrealistic expectations. While the SLO does mention connection requirements for videoconferencing, Kevin may have a point about removal of such devices. James responded that he has not had the time to engage all the CEOs on this, but costs have come down and connection upgrades may be feasible soon at many locations. He would encourage District Support staff to pioneer service reviews at these locations if they can. Getting copies of billing statements faxed in would be a huge help.
The ICC recommendation process
Steve said that we could have a strict vote on the SLO, but in the past he has generally handled such things by writing a recommendation which expressed our consensus, including any dissent or concerns directly therein. What Steve proposed and was accepted is that he would draft a recommendation over the weekend and get it out to the ICC for comments and revisions. The goal would be to have any revisions done by Wednesday and then vote via Outlook. Whichever way it went the results should then be something worth bringing to ITPAC and a good way to provide them with our feedback.
Dennis Brown pointed out that the comments of the District IT Support and REC IT support staff are most critical and that if any of those folks had changes they felt were needed in the SLO, that they should speak up.
New myuf Market requisitioning system changeover beginning July 1st (previous discussion)
Steve reminded people that we should soon be hearing about hands-on training for this new requisitioning system. That is currently scheduled for May 26-May 29 here at the Dodge Island Computer Lab at Bridges on the east campus. For remote folks, training will also be at RECs in Apopka, Belle Glade and Quincy.
Steve noted that he had no news regarding implementation of this plan but assumed it is being carried out.
Dan Cromer mentioned that he has begun re-writing his job description to reflect his new dual lines of report to the CIO and to the IFAS SVP.
The May ITAC-NI meeting will be held next Thursday
Steve has heard from Dan Miller that next week's meeting will be our last with him as chairman and with the committee being designated as "Network Infrastructure". The committee is going to be reformed as the "Infrastructure" as called for by the IT Action Plan.
UF Exchange Project updates (see prior discussion)
Apparently UFAD/Exchange will support rehyration
In contrast to what Steve mentioned in last month's notes, rehydration was discussed at last month's "Exchange Help for LOcal admins" (EHLO) event. Steve wanted to thank Dan Cromer and Patrick Pettus for having made that event available via Polycom.
Office Communications Server coming to UF
The UFAD/Exchange group soon will be adding Microsoft Office Communications Server to their list of supported services. The project is currently in beta running on a separate "UFADBETA" domain, but production hardware is on order. Due to the separate domain, a separate logon is required and integration with Outlook is not supported during the beta testing. The system does support the Office Communicator client (much like an AD aware Windows Live Messenger) as well as the web-based Office Communicator Web Access. For more full featured meeting support there is Office Live Meeting.
Not all possible services will be supported. For example, they do not plan to support connectors for the various outside IM services. There is a client for the Macintosh, however. Microsoft has posted a demo of Office Communicator on the web.
Participation in the production system will require the annual purchase of Enterprise Client Access License (eCALs); those are prorated right now at about $5 per person, but will be $9.15 per person at the next renewal interval in November. These are Enterprise CALs which could provide access to a whole host of Microsoft services, including MOSS.
Dan Cromer has purchased 100 licenses for testing purposes and he is interested in getting a number of the IT support folks to try that out--particularly the district support people. If you wish to participate, please contact Dan.
Problem with UF and IFAS listserv mailings going to Junk E-mail has been resolved
Some of you may have noticed in the past that certain messages from our lists ended up in Junk E-mail. Rules on Exchange were meant to prevent that by resetting the SCL for such messages. The problems there are now believed to be resolved.
Split DNS solution for UFAD problems
Steve wants to keep this on the agenda for future reference.
---
Projects
---
There continues to be no progress on the documentation which was to happen prior to announcement. Since this has never been formally announced, the matter remains on the agenda as a standing item.
Vista Deployment via SMS and WDS
Thanks to Chris Leopold, the first release candidate of Windows 7 has now been made available at the IFAS Software site (if-admn credentials required for access).
Exit processes, NMB and permission removal (prior discussion)
Nothing further was available on this topic at this time.
Re-enabling the Windows firewall
This is still planned but is pending the time to implement.
---
Operations
---
Wayne Hyde has been working busily on creating tools which help us better examine group memberships. He had shared the following with the ICC view e-mail prior (slightly updated by Steve with improvements made since):
Wayne Hyde has written a new userinfo page which is now live. The new page has the following improvements/changes:
Group membership is now sorted.
Graphical tree-view representation of the user's group membership. The tree-view lets you see indirect group membership for users. For example, as a direct member of "PS_UF_PA_STAFF_AutoGS" you are also a member of "AT-CIRCALABS-ChargedPrintUsers" since the former is a member of the latter. This will help in situations where you are pulling out your hair trying to figure out why someone has access to a resource where membership isn't obvious.
Groups can be clicked to bring up a groupinfo page (with clickable entries for user/group info).
Parameters to the pages are possible via:

https://itsa.ifas.ufl.edu/ouadmin/userinfo.asp?user=gatorlink
https://itsa.ifas.ufl.edu/ouadmin/groupinfo.asp?group=groupname

Other admin pages that list users will be enhanced with links to the userinfo page via userinfo.asp?user=gatorlink. The ICC membership page now makes use of that feature via links under each member's name.
If your session isn't authorized you will have to enter credentials but it will remember your query.
The old text group membership list is accessible via clicking the "+" box below the new tree-view display. The text membership list also enumerates indirect group membership.
The userinfo and groupinfo tools are being consolidated beneath https://itsa.ifas.ufl.edu/ouadmin, but are directly accessible via ?https://itsa.ifas.ufl.edu/ouadmin/userinfo.asp and ?https://itsa.ifas.ufl.edu/ouadmin/groupinfo.asp. OUinfo and Computerinfo tools are under development as well.
Please let Wayne know if you hit any bugs or have any improvements you would like made. These pages, others and some new ones will be consolidated under a new website for IFAS admins in the future.
Group Info
Steve walked through a number of the screens while Wayne explained various features. The userinfo tool now shows group memberships in a tree structure, with the first-level groups being those groups which the user account directly resides within and those are displayed in bold. The child groups at each level represent "members of" their associated higher level group. Active directory stores a "primary group" attribute separately for each account; this is usually the "domain users" group. Wayne managed to show this relationship as well.
User Info
The groups listed for a user are clickable and take you to the GroupInfo tool. The list size is limited to 1500 under the procedures currently used.
OU Info
Wayne has also redone the old OUinfo page, with a much improved version. This new tool makes finding users of particular types much simpler, including users outside the selected OU, and users residing the Students, Other and Disabled Accounts OUs. Filtering is available as well. Besides users beneath the "Users" OU it also displays service accounts, computers and groups beneath the "Computers" OU.
Computer Info
Wayne hasn't done much with this yet but does have a starting point. He plans to have two pages: one which pulls info out of UFAD and the other which pulls considerably more info on your computers from LanSweeper.
Folder permissioning on the IFAS file server
Steve had meant to ask Wayne if the ICC had been responsive to his new security group standards, but failed to do so. Please take the time to read and implement the new standards. If you have any questions get with Wayne or Steve.
Disabling/deleting computer accounts based on computer password age
As with so many things in these times of inadequate staffing, finding time for implementation is proving difficult.
New MPS/DC testing -- access by unit-level administrators
There was no time to address this topic.
Unfortunately, this is yet another useful project for which implementation time has been lacking.
There was no time to address this topic.
There was no time to address this topic.
Status of SharePoint services (prior discussion)
Nothing further was available on this topic at this time.
Public folder file deletion policies and procedures status
Nothing further was available on this topic at this time.
Steve wanted to remind everyone of the important notice which Patrick Pettus had sent out May 5th:
Beginning May 11th Video & Collaboration Services (VCS) will be re-certifying all videoconferencing units. Please make sure that your units are turned on and left on next week.
During the Certification process we will:
Test the connection
Update software (maintenance contract required)
Verify correct settings
Change the password
Update the address book
Register with gatekeeper
Verify the extension number
Register with the management server
Update the certification status
Once a unit is certified it should remain powered on and connected to the network to remain certified. For those sites where this is not possible the unit must be on and connected at least one hour before planned use. VCS should be notified by those sites that have such exceptions.
For more information on endpoint certification and other videoconferencing announcements please visit the SharePoint site: http://my.ifas.ufl.edu/sites/services/ics/vc/
Fergie was concerned that support folks be notified of any new passwords; otherwise they won't be able to provide support. It was suggested that Fergie contact Patrick with this concern and let others know what transpires.
Microsoft
The May Microsoft patches will apparently consist of a single critical patch for Office.
MS Office News update
Office 2007 Service Pack 2 is now available. Steve has updated the IFAS Office LIS Install point (ufad\if-admn credentials required).
Dwight Jesseman posted a message to the this morning, mentioning Outlook 2007 SP2 performance improvements, providing links to the articles Outlook 2007 SP2 Improves OST Performance and OST Sizing Guidance Changes . Dwight believes we should encourage people to upgrade to Office 2007 SP2.
Kevin mentioned that he pushed this out to over 100 people using WSUS with no problems other than people noticing that the OST file gets rebuilt (i.e., a first time using Outlook message).
Job Matrix Update status
There was no time to address this topic.
Steve wants to leave this matter as a standing agenda item for future discussion.
---
Other Topics
---
Steve noted that on April 16th, Andrew Carey commented out line 59 of Login Script.vbs (objShell.Run "regedit.exe /S \\ad.ufl.edu\NETLOGON\IFAS\ie-ads.reg") so that no new (or fixed) computers will receive the restricted sites. Removal of the keys will be considered as an upcoming second-phase project. Those wishing to remove those may use the script provided in the notes of the April meeting.
---
The meeting was adjourned on time at approximately noon.