IFAS COMPUTER COORDINATORS
(ICC)
NOTES FROM August 12th 2011 REGULAR MEETING
---
A meeting of the ICC was held on Friday, August 12th, 2011 in 1027 Entomology (due to ongoing renovations to the ICS conference room). The meeting was chaired and called to order by Steve Lasley at about 10:00 am.
PRESENT: Thirteen members participated.

Remote participants: Bill Black, Dan Cromer, Wayne Hyde, Marvin Newman, Scott Owens, Mike Ryabin, Santos Soler, and John Wells.

On-site participants: Russell Hunter, Winnie Lante, Steve Lasley, James Moore, and Michael Morrow.


STREAMING AUDIO: available here
---
NOTES:
Agendas were distributed and the sign-up sheet was passed around.
---
---
Member news:
Steve noted that Andrew Carey has left IFAS for OSG. We wish him the very best but will miss having him here at IFAS; on the other hand, it will be nice to have an ex-IFAS person in the UFAD group again.
Alexander York has accepted an offer to replace Andrew and is slated to begin work on September 2nd. In the meantime, please e-mail support requests to ITSA@IFAS.UFL.EDU rather than to individuals as ITSA is trying to maintain things as best they can with very limited staff currently.
Steve also noted that Michael Morrow is now providing support for Plant Pathology. We were pleased that Michael could make it to the meeting and welcome him to IFAS.
Russell Hunter began as A. D. Walker's replacement at NFREC on August first. Russell has 11 years as an IT specialist in the Navy and most recently has been working for the Division of Forestry. Russell travelled to Gainesville today for his first ICC meeting and to meet with the ITSA staff as well as James Moore.
Howard Beck has retired. Howard had developed EDIS (among other things) and his leaving left that and a number of other software development projects without a lead. Consequently, IFAS has hired Wai (Sammy) Chan to pick up where Howard left off. Sammy comes to us from UCF and has an extensive background in web application development.
Steve had also heard via Dennis Brown that Ron Thomas has moved to CALS. Dennis was not sure what that meant in the overall structure of IFAS IT/ICS.
Recap since last meeting:
As per his usual procedure, Steve pointed folks to the notes of the last meeting, without going into any details.
---
Videoconferencing and WAN discussion
[In order to make meeting participation more efficient for Patrick Pettus and James Moore, these two topics have been moved to reside at the top of our agendas.]
Videoconferencing topics (previous discussion)
End-user Scheduling (previous discussion)
Steve asked Dan Cromer if there had been any movement on end-user scheduling of bridged videoconferences. Dan replied that this is still awaiting time for implementation.
MOVI (previous discussion)
Dan mentioned that MOVI is intended as a replacement for PVX software which apparently won't run on newer processors. Dan has found it very easy to install and feels it works very well for folks who wish to dial an IP address directly from a computer to participate in a videoconference.
Mike Ryabin mentioned having issues with MOVI in sending content. He also noted quality issues and wondered if others had seen this. Dan mentioned that Mike should make sure he has the latest 4.2 version as that fixes a number of issues; that is available at \\ad.ufl.edu\ifas\software\movi. If that didn't fix the problem, Dan suggested that Mike inspect the settings and perhaps reduce the maximum being allocated: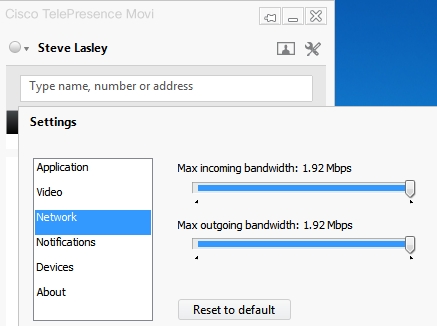 Dan Cromer mentioned that MOVI costs about $100/license so he does not expect to have a broad rollout of this. Dan wants to keep this primarily for conference room use (as an inexpensive Polycom replacement along with a laptop), high-level administrative use or for tech support. Steve suggested sharing one account within a department might be a good option for non-concurrent use and Dan Cromer noted that the license did allow installation on as many machines as necessary--though a given account could only be used from one machine at a time.
Lync deployment (previous discussion)
Dan reported that the hardware is being spec'd out currently and he hopes that it can be placed into production sometime in September. This has taken long than we had hoped due, in part, to waiting on the Exchange Server 2010 migration to be completed.
Dan continues to work on getting CNS to realistically evaluate Microsoft vs. Cisco as an Integrated Communications Systems vendor for UF. John Madey has apparently had little time to dedicate to that task, however.
Mike Ryabin asked if the transition from MOC to Lync would be transparent to users. Dan said that this was the plan. You must have the current version of MOC for it to connect to Lync, but that is handled via Microsoft updates and WSUS, so that should not be an issue. Eventually we will want to upgrade the clients to the new Lync client, however.
Campus VoIP improvement to be implemented
CNS Telecommunications plans to finally enable the feature which allows voice messages to be forwarded over to Exchange. Previously one could only get an email saying that a voice message had been left from such-and-such a number, but now the sound file of the message will be included.
Mike asked if this feature would be available to his users in Ft. Lauderdale. Dan responded that this is for campus and CREC currently. Ft. Lauderdale is not integrated with the campus CallManager as is now being done with newer VoIP installations now such as CREC. CREC is connected to the campus CallManager. They do have a local component connected via an SRST gateway that allows a small number of their phones to continue service should the WAN circuit go down.
WAN transition to CNS (previous discussion)
Updates from James Moore
James mentioned that his is now on UF Exchange, so he is able to coordinate calendars with district support staff. He is trying to finish with the CEO installs; there are a few sites coming on: Leon, Nassau, Taylor, Leon and Nassau were previously managed by their respective counties but are now moving over to UF.
James is going to try to finish putting in new LAN equipment at the RECs over the next five months. Immokalee was the last REC to receive a WAN upgrade and James will be going to Homestead next. TREC is looking at VoIP but their LAN needs an upgrade desperately. James has to consider the costs of PoE there for them to support VoIP.
Steve mentioned that Kevin Hill had been very happy with the speed improvements at Immokalee when last they had talked. James said that he has a ticket open currently looking at the upstream link there; it apparently isn't operating up to its 20Mbps spec. Steve noted that Immokalee, CREC and GCREC now share a common path back to Tampa so there is some potential for a single outage to affect all three simultaneously. James responded that this would be due to Brighthouse; they seem to have fairly frequent issues with their change management.
James said that Quincy is looking at their VoIP system and CNS is advising since they don't want to support VoIP that doesn't come back to Gainesville. CNS wants to move them to a new circuit and this should be doable since they are already paying a lot of money for their current connection.
Milton is on the campus of the Pensacola State College (formerly Pensacola Junior College) and the plan is to bring them into the Tallahassee FLR POP, weaning them off their MFN connection.
---
Policy
---
Steve noted that the Shared Infrastructure Advisory Committee (SIAC) of which Dan Cromer is a member, has been quite busy as evidenced by its June 28th report. Steve pulled up that report and solicited questions from the ICC and comments from Dan regarding the various topics that were discussed.
Dan said that the Virtual Fax Servers, targeted for Fall 2011, seem on schedule. Dan has asked that IFAS be involved. The Dropbox service is proceeding similarly. Apparently, Engineering had set up something that provided a dropbox service and that this is being moved to CNS to be available for all. This should be announced very soon now; Dan hopes that will happen at the upcoming IT Directors meeting.
Steve asked whether or not there was any plan to make these committee reports available in a more timely fashion. Dan responded that Tim Fitzpatrick talked about the need for that at their last meeting.
New Secunia site license (previous discussion)
A capture of July's SCCM meeting is available. Topics discussed included:
Integrating Forefront with SCCM 2007 by Micah Johnson
Custom Reporting (Bitlocker) in SCCM 2007
Managing Non-Windows machines with SCCM 2007
CM 2012 Walkthrough
Secunia Installation Walkthrough by Joe Gasper
As Wayne Hyde noted to the ICC previously, he is now pushing out the Secunia agent via WSUS. Once the delegation is in place we should each be able to browse the information for our own OUs via a web interface. Eventually it is hoped that updates of third-party software packages can be implemented via WSUS using the tools Secunia provides.
Wayne noted that our biggest problems with insecure third-part software products involve Java, Flash Player, Quicktime, and Adobe Reader...in that order.
Dan Cromer noted that SAS apparently does not support more recent secure versions of SAS. Steve noted that he had been in previous discussions with Joel Parlin and Kevin Hill on that issue. What they are doing and what Steve recommends is to install the latest JRE (version 6 -- not the just released version 7 that is apparently causing many compatibility issues) prior to installing SAS, then pointing SAS to that during installation: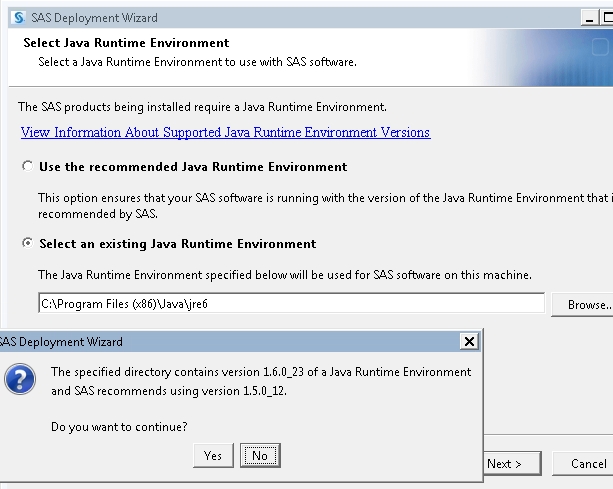 When Dan Cromer pointed out this would still be an unsupported installation, Steve noted that most of his SAS users don't even use the features of SAS (graphing, etc.) that require Java; he knows this because he has removed the SAS-installed versions on all his user machines almost without comment. In his limited experience the above method does work for those using the more advanced features, even though it may not be technically supported by SAS. Steve noted that JMP also installs an insecure version of JRE and Steve has heard no complaints so far when that is removed. Steve doesn't feel we can afford to have unpatched JRE installs as this is the number one vulnerability being exploited currently (and we can easily see why).
KACE agent to be deployed throughout UF for computer inventory purposes
Steve had heard that IFAS had requested and been granted allowance to wait for Ver 5.3 of the client prior to rolling this out. Dan Cromer responded that this new version is out now and it has been implemented on a few test machines in Operations Analysis (OA). The plan is to run it on all OA machines through next week, after which they plan to begin asking other units to push it out as well. According to Dan, IFAS will follow shortly. This tool will allow central IT to obtain a much more complete picture of the computer resources at UF.
Update on domain policy and redirect duration (previous discussion)
The ITPAC web site has remained dormant since Steve stepped down. In the interest of making some details more broadly available, however, Steve has posted the minutes of the February and June ITPAC meetings to the ICC web site.
Dan reported that Wendy Williams and Al Wysocki are waiting until the Fall term to discuss this with the IFAS faculty committee to get their input.
Dan also noted that the current IMM on Domain Name Policy prohibits IFAS departments having their own third-level domains:
"The IFAS domain is "ifas.ufl.edu." All official IFAS Web sites, including those of schools, departments, offices, or other operating units, as well as faculty or staff performing IFAS functions, should use appropriate names within the ifas.ufl.edu namespace for Web sites or other use of the Internet. Generally, this means that all IFAS Web sites will end with ifas.ufl.edu."
Dan said that he was interested in enforcing those rules and getting all units in compliance. The matter arose recently when Dennis Brown requested a couple of SSL certificates via Santos Soler.
Steve said that he was aware of at least two units currently utilizing such domains: Horticultural Sciences and SWFREC, though there may very well be others. He is not sure whether or not these are really a bone-of-contention or whether these simply preceded policy development and remained as historical artifacts because it was easier to leave things as they were rather than make the change.
CNS working to implement NAC for UF wireless (previous discussion)
James Moore said that CNS is still evaluating how to best proceed with this.
UF Exchange Project updates (previous discussion)
Documentation updates needed for Exchange client configuration
Steve noted that various pages linked via their Connecting to Email documentation require updating for Exchange 2010. For example, the documentation for Outlook 2007 still shows "mapi.mail.ufl.edu" listed as the Exchange server rather than "outlook.mail.ufl.edu". This has led to unnecessary frustration from users trying to configure this on their home systems not joined to UFAD.
Steve asked Dan what means we might undertake to get that resolved, noting that this site does not have a "contact the webmaster" link for suggestion/request submissions. Dan said that he would forward this on to the new Help Desk supervisor to see if he could get some action on the issue.
Outlook losing connection to Exchange on a frequent basis
Steve noted that Outlook has been losing connection to Exchange on a frequent basis for a number of his users. Some are repeatedly prompted for credentials. Sometimes closing and reopening seems to fix it and sometimes not. Since the problem happens basically at random it has been difficult to obtain useful information to forward on.
Winnie Lante said that she and her users have been seeing this as well. She added that it seems to affect the public folders; once it happens, all the public folders disappear.
Steve asked Dan if this was a known issue and Dan replied that Luis reported this fixed as of 11:15am yesterday. The problem remains, however, as both Winnie and Steve have documented instances of that this very morning. Dan said that Luis needs the time it happens and the user affected in order to investigate. Dan asked that OUAdmins forward such information on to Scott Owens so that he can escalate such details on to UF Exchange.
Russell Hunter noted that Quincy users have been seeing a good number of synchronization errors within Outlook (see "Sync Issues" folder that is visible when selecting the Folder List button). Steve responded that he has received 85 such messages since last October himself; he believes this has been occurring with Outlook all along but has seen no noticeable adverse effects from those and thus has ignored them. That doesn't mean, however, that these don't indicate some issue behind the scenes that could/should be addressed.
Sakai e-Learning System now in production (previous discussion)
No updates available...
Alternate IFAS domains in e-mail
No updates available...
Electronic Copy - Print Output Cost Reduction program (previous discussion)
No updates available...
myuf Market (previous discussion)
Steve wants to keep this on our agendas in case discussion seems warranted.
Split DNS solution for UFAD problems
Steve wants to keep this on the agenda for future reference.
---
Projects
---
Santos Soler said he is still waiting (along with Wayne) on the 10Gbs switches which are needed to set up our new SAN. That is what is currently holding up migration of web sites to the new server platform.
Santos wanted to mention that WordPress is being set up for some people but there is an issue with the database it utilizes (MySQL) that makes backups difficult. He wanted to warn people that there was the potential for losing a day's work and the associated data should problems occur.
Steve had remembered that Mitch Thompson in Apopka had expressed interesting WordPress. He asked Santos what other sites were using it. Santos said that he just set up three new sites for CEOs in District One (John Wells). Micah Bolen implemented the Agronomy web site completely on Word Press and there are plans for doing that with AEC as well.
Santos added that he now has two Drupal sites; that system can use Microsoft SQL on the backend, however, so he is not so concerned about supporting that from a backup standpoint.
Steve noted that in the interim between Andrew leaving and Alexander's arrival Chris Leopold has been working on getting various RECs migrated over to their new MPS. Steve believed and Marvin Newman confirmed that Ft. Pierce was now complete. Quincy will be the next big challenge for Chris in cooperation with Russell Hunter.
No updates available...
New virtual infrastructure being implemented
Steve's understanding based on prior chats with Wayne...
In Wayne's absence, Steve tried to bring folks somewhat up-to-date on what was happening. Originally, Wayne thought he would just re-use if-srvc-file1/file2, etc. but windows 2008 -> R2 migration issues and the use of DFS namespace pretty much makes it moot as clients (except Macs) use the DFS targets. Consequently, the new file cluster on storage server 2008 R2 will be a 3-node cluster: IF-SRVCN-FILER1, -FILER2, -FILER3. We'll have two file server resource nodes: IF-SRVC-FILER1 and -FILER2 (pretty much just added the R at the end of FILE).
For patching and windows updates, he'll patch the passive node, then fail over the virtual nodes one by one so there is only one failover during patches (instead of two now) So the procedure will be: patch node3, reboot, move -FILER2 to node3, patch node2, reboot, move -FILER1 to node2, patch node1.
Fail-over takes about 10-30 seconds. Shares and the cluster name go off-line first, then the disks go offline and finally the resource (virtual file server name IF-SRVC-FILER1 or IF-SRVC-FILER2) can be moved to the other node. Once there, the disks are brought online followed by the cluster name and shares. That mean only about 30 seconds of downtime for windows updates once a month.
Wayne plans to move away from a few data shares to individual shares for each department, so he could do a "net view \\if-srvc-filer1" and "net view \\if-srvc-filer2" to easily enumerate the unit shares. Right now he has to do a "dir \\if-srvc-filer1\data-k" then repeat for data-l and data-m.
Wayne has done some tests of the single instance storage (SIS) feature of Windows Storage Server and has seen roughly 20% storage savings using Winnie's unit as test data. The question is whether or not the increased I/O needed for that will make a reasonable tradeoff.
We are going to have two 43TB pools for storage. Each pool is made up of four 8-disk 6+2 RAID6 groups and our most critical OU data will be replicated to the other pool. The disks will span 5 enclosures, and Wayne has laid them out so an entire enclosure can fail (dual power supply loss, for example) and we'll still survive as each raid group only has 2 disks in each enclosure.
Emailed status report from Wayne...
Wayne had been listening in as time allowed and responded with an update himself that is likely more accurate:
Message from Wayne Hyde:
"Wayne's status update" Fri 8/12/2011 10:45 AM
---
Both EMC VNX5300 storage arrays and the ten Dell R710 servers have arrived. One VNX is for file storage and the other will support our virtual desktop and server environment.
We are still waiting on the two 48-port 10Gb Cisco switches and peripherals.
To alleviate capacity issues on our current vSphere cluster I added two of the R710 nodes to the current/old SAN and migrated our VDI environment to them. This allowed me to deploy Dr. Grunwald's GIS course VMs without problems. The disk IO won't be improved, but the VMs should run faster thanks to much faster CPUs and more RAM per VM.
I am investigating using Windows Storage Server 2008 R2 to replace our current file cluster (Server 2008). The advantage over regular Server is Single Instance Storage. I did a test with one unit and with 1.9TB of data we saved roughly 450GB via SIS. Once the Cisco switches arrive and I can deploy the new VNX5300 for our file cluster I'll set up a test cluster using the new storage.
Some of the changes:
A three node cluster (active/active/passive) which will allow for better patch process instead of our current 2-node cluster. We can patch the passive node and test for issues without affecting the active nodes. Then when we patch the other two nodes, only a single failover of the file share resources will be required instead of two (currently). The passive node will change at each windows update cycle, but this isn't a problem with three identical servers.
Since 99.9% of our clients are DFS capable Windows clients, we are going to change the cluster names and move to individual shares for units. This is to work around potential issues with the backup software and also create individual LUNs for each unit. Each unit will get their own LUN on the SAN which will allow us to increase capacity as needed easily on a unit basis. Our current setup has four 8TB and two 4TB LUNs where many units exist share space on those LUNs. Long story short; Windows clients won't notice a change.
Older Mac clients will need to be notified of their new storage locations. The units will be split something like A-K and L-Z between the two nodes to make it easy to figure out which cluster resource to use. Of course I haven't tested but I have seen reports that it supports DFS namespaces now. Anyone with a Lion box to test?
I could talk forever but now seems like a good time to quit.
There continues to be no progress on the documentation which was to happen prior to announcement. Since this has never been formally announced, the matter remains on the agenda as a standing item.
Windows 7 Deployment via the WAIK, MS Deployment Toolkit 2010, USMT 4.0, WDS, and SCCM
WDT 2010
Steve wanted to reiterate that the Windows Deployment Toolkit is working great for him. He noted that it is very easy now to have x86 and x64 Windows 7 images that are fully patched and ready for deployment. Updating wouldn't have to be done monthly, but MDT and VMware make that so easy that Steve hasn't seen this as a burden. His images contain Office 2010 in the base image and deploy any or all of his other universally deployed applications on-the-fly as the images are deployed. Those are also very easy to keep updated. As a result, Steve's production builds proceed very rapidly with the end result that the machines are joined to the domain and fully patched with only a minute or so of actual hands-on involvement--the rest proceeds automatically.
Steve would be glad to share what he is doing, but recommends first reading his earlier post on the topic.
SCCM for IFAS
Steve noted that Nick Smith is using SCCM for OS deployment with both the IFAS Helpdesk and HSHN. Andrew had encouraged him to get other units involved with that and Nick has spent some time with Steve trying to get him connected. Steve now has access to the ConfigMgr Console but has been unsuccessful to-date in implementing the client on any of his machines. There are still some access permissions that need tweaking apparently. Steve noted that, while he can PXE-boot and install one of the images that Nick has made available, those are currently too far out-of-date to be very useful. His current MDT deployment methods are thus preferable to him currently. Steve believes that using MDT and VMware to make and maintain reference images while utilizing SCCM for actual deployment may someday prove to be the "best of both worlds".
Exit processes, NMB and permission removal (prior discussion)
No updates available...
Re-enabling the Windows firewall (prior discussion)
Steve noted that Wayne has been doing something with a test GPO and has their group and Steve participating in testing currently. Steve noted that the current test GPO seems to work fine with Windows 7 but still has some issues with Windows XP.
Services Documentation: Is a Wiki the way? (prior discussion)
No updates available...
---
Operations
---
Print server (previous discussion)
Steve noted having several issues with the print server since out last meeting. His unit uses HP primarily and issues with the universal drivers seem to be a recurring headache. When a new version comes out or is needed in order to support a new printer model, the installation of that on the server affects _all_ the printer shares. This causes some to revert to incorrect defaults and others require switching to/from PCL5/PCL6 to prevent printing errors. It appears that there is no real long-term solution and that this is something we will just have to put up with.
Steve said that he configured direct IP printing for some users in order to avoid some of these print server issues which can take considerable time to coordinate solutions for with ITSA staff. Michael Morrow mentioned having done the same.
Recording lectures for Distance Education (previous discussion)
Protected access for captured lectures
Steve would like to address this issue once Santos is available for discussion.
New DHCP reservation site created (previous discussion)
You are reminded that Santos Soler has created a new DHCP reservation site which you may use to request reservations.
Restoration of back-ups on the file server
Wayne Hyde intends to document and announce proper usage as time permits.
Membership of ". IFAS-ICC" e-mail distribution group to be narrowed to ICC members only (previous discussion)
Steve will keep this as a standing item on our agendas for now as a reminder. The ICC distribution list is more targeted and restricted to IFAS IT support folks only.
IFAS efforts toward Green IT (previous discussion)
No updates available...
Creating guest GatorLink accounts: singly or in bulk (prior discussion)
Steve had left this on the agenda in case further discussion was deemed warranted.
Can IFAS support DirectAccess in the future? (prior discussion)
See VPN discussion below...
Moving away from the IFAS VPN service (previous discussion)
No updates available...
VDI desktops as admin workstations (previous discussion)
No updates available...
Wayne's Power Tools (prior discussion)
No updates available...
Computer compliance tool in production (previous discussion)
No updates available...
Folder permissioning on the IFAS file server
You are reminded to please take the time to read and implement the new standards. If you have any questions get with Wayne or Steve.
Disabling/deleting computer accounts based on computer password age
This is yet another matter for which finding time for implementation is proving difficult. Steve wants folks to remember that Andrew Carey had a good plan for dealing with this which he simply had no time to address. Perhaps Alexander can address this once he gets up to speed. In the meantime, it would be very good of each OU Admin to consider mimicking the proposed plan manually by keeping their own records and deleting any computer object which have been disabled for 90 or more days; Wayne's Power Tools can identify those. Steve has finally begun doing that for his own unit and it has made his view within ADUC much more agreeable.
Core Services status (previous discussion)
see the new virtual infrastructure section above...
No updates available...
Status of SharePoint services (prior discussion)
IFAS migrating to centralized MOSS
No updates available...
Public folder file deletion policies and procedures status
Nothing further was available on this topic at this time.
Microsoft
The August Microsoft patches included 13 bulletins (2 "Critical", 9 "Important" and 2 "Moderate") covering 22 vulnerabilities mostly for Windows itself with some .Net.
McAfee provides podcasts on the highlights of each month's offerings and another podcast summary of these patches is provided by "Security Bulletins for the regular IT guy".
Adobe
A new 10.3.183.5 version of Flash Player 10 ActiveX was released on Tuesday to address security vulnerabilities.
The quarterly security updates for Adobe Reader and Acrobat have come out since our last meeting in June.
Oracle
Oracle released version 7 of JRE but has yet to address reported vulnerabilities in JREv6r26. Steve mentioned that he is staying well away from version 7 until further notice.
Apple
Apple released Quicktime 7.7 last Thursday.
MS Office News update
No updates available...
Job Matrix Update status
This is here as a standing topic--no discussion this month.
Remedy system status (previous discussion)
No updates available...
---
Other Topics
Departmental servers within IFAS
Steve's take...
Just as UF IT is encouraging all units to consolidate their server infrastructure within the CNS datacenter(s), IFAS central IT would like to consolidate unit-run servers within IFAS. This should only be done when it makes good business sense for the units involved, however. Steve (among others) feels that the arguments against moving much of the IFAS IT centralized server infrastructure to CNS are quite strong as IFAS ITSA truly manages our servers/services and does it efficiently and economically, while CNS focuses to a great extent on lower-levels of support via hardware hosting at costs above what IFAS currently spends handling things internally. CNS focuses on plumbing and IFAS IT/ITSA focus on overall productivity of our users; this matter of focus is extremely important.
The question is whether or not server installations within individual units can make the same claim with regards to centralizing with IFAS IT. If so, then they have a strong argument for retaining their installations. If and where not, however, they should consider consolidation as it undoubtedly will save considerable money overall and past experience indicates that ITSA manages its infrastructure in an exemplary manner (time and staffing levels being considered) which CNS would do well to emulate.
Dennis Brown manages a number of servers within his department with Kamin Miller's assistance, so this issue concerns him (among others) directly. Dennis was unable to attend to today's meeting and so further discussion will occur next meeting as well, but Steve wanted to initiate discussion today in order to elicit as broad-level input into this matter as possible.
other discussion...
Wayne Hyde wanted everyone to realize that "...if people _need_ servers, we'll have 1.21 jiggawatts of virtual server capacity available for units soon."
Dan Cromer said that this issue is something that President Machen has become involved with; he and Elias Eldayrie are on the path to enforcing a single IT environment at UF. Dan said that he felt any discussion of whether or not we want/need departmental servers was a "moot" point because UF is going to mandate that it happens. Steve took exception with this because he didn't believe such a thing should go ahead without close examination and discussion. It may or may not be inevitable, but that doesn't mean we have to quiescently agree without voicing our legitimate concerns.
Dan did say that the Senior Vice President would not concur when the service is not as good as or costs more than what we are currently providing ourselves.
[Steve wants to note that this has been Joe Joyce's "rule of thumb" for quite some time, but that in the past Dr. Joyce has appeared misinformed as to service level details and has painted "cost savings" in a more positive light than critical examination would support (see here). This is not a situation where we can move, evaluate and then move back if things aren't acceptable. Once we move we will have been assimilated for good. Hosting is just the first step to removing ITSA and replacing custom services with least common denominator solutions over which we will have virtually no say or control.]
Dan did mention that he has a spreadsheet which he has shown to Tim Fitzpatrick that details IFAS's current server infrastructure costs as compared to what CNS charges for hosting. Our costs are about one-third, even were CNS to supplement at 50% savings. Dan said that we would not only require a considerable price reduction but we would need assurance regarding service responsiveness.
Dan said that UF Security is getting involved as well in this put for centralization. Dan suspects that this office may put teeth into the mandate that only centralized server rooms be utilized.
Dan seems convinced that relocation of the IFAS server room hardware would not impede ITSA's ability to provide and support our services. Steve, however, suspects that is not really the case if examined critically. Furthermore, if this is just the first step (as it would surely be) to assimilating IFAS onto CNS generic server hardware then this will be a huge negative change in how IFAS can control service innovation moving forward. In Steve's opinion it is not in IFAS's best interest to accept this as a foregone conclusion without doing all we can to leverage things in IFAS's favor.
usage of the UF IT Alerts Dashboard page by IFAS
No updates available...
RODC issues at remote sites (prior discussion)
No updates available...
UAC settings egregious for users?
No updates available...
PDF-Xchange (prior discussion)
No updates available...
---
The meeting was adjourned a bit early at about 11:30 AM.