IFAS COMPUTER COORDINATORS
(ICC)
NOTES FROM September 12th 2008 REGULAR MEETING
---
A meeting of the ICC was held on Friday, September 12th, 2008 in the ICS conference room. The meeting was chaired and called to order by Steve Lasley at about 10:00 am.
PRESENT: Twenty-two members participated.

Remote participants: Bill Black, Dan Cromer, Dwight Jesseman, Kevin Hill, Joel Parlin, Mike Ryabin, and Louise Ryan

On-site participants: David Bauldree, Benjamin Beach, Ken Brauer, Dennis Brown, Andrew Carey, Lance Cozart, Marion Douglas, Francis Ferguson, Wayne Hyde, Winnie Lante, Steve Lasley, Chris Leopold, James Moore, Wendy Williams, and Matt Wilson

Guests: Joe Joyce, Lon Busby, and Bernard Mair


STREAMING AUDIO: available here.
---
NOTES:
Agendas were distributed and the sign-up sheet was passed around.
Unfortunately, we had technical problems; the Polycom remote control did not function. Marion Douglas was able to connect us by accessing the Polycom through its web interface, but we were unable to control the cameras or turn up the sound to where we could hear remote sites. Dan Cromer and Dwight Jesseman did manage to call in via speaker phone later on in the meeting and provide input via that method. We apologize for the inconvenience and hope to have this remedied by next time.
---
---
Member news:
New members...
Steve noted that James Moore and Ken Brauer were both with us for their first times today. James is the new IFAS WAN Tech for CNS and Ken has been hired at 24hrs/wk to provide IT support for Animal Sciences.
Steve also mentioned that Brent Ferraro and Stephen Clay of the FAWN group had recently been added to the ICC-L. In adding them to the Listserv, Steve asked if they would be willing to share a little bit about themselves.
Brent Ferraro responded:


"I'm the webmaster for FAWN and AgClimate. I take care of the 
 web/graphic design and html/css coding for all of our web 
 sites. If I read a post that  I think I can add to, I will 
 definitely join in."

Stephen Clay responded:


"Right now I'm mainly programming PHP5 and Javascript for 
 the FAWN web site [1], but I also have quite a bit of 
 experience with CSS. In my spare time I manage the open 
 source project Minify [2], which helps minimize page 
 loading times and bandwidth usage.

[1] http://fawn.ifas.ufl.edu/
[2] http://code.google.com/p/minify/"


Steve hopes everyone will join him in welcoming these new folks to our group.
And one member has moved on...
Steve noted that Julio Bastidas has left CREC for a job in Tampa. Allan Burrage does not believe that his position can be refilled but is looking for some OPS help to cover some of the tasks formerly performed by Julio.
Recap since last meeting:
As per his usual procedure, Steve pointed folks to the notes of the last meeting, without going into any details.
October meeting to be run by Dennis Brown:
Steve noted that he will be out of the country for the first half of October and consequently Dennis has agreed to run our meeting that month.
---
---
Welcome
Steve began by saying how we were very fortunate that Dr. Joyce was willing to take some time out of his very busy schedule to address our concerns and to speak regarding the long-term stability of the IT/SA group. Dr. Joyce has been our strongest proponent and perhaps our only tangible link to upper IFAS administration. We greatly appreciated his willingness to be here today.
Background on IT/SA staffing levels over time
Steve then asked for some patience as he provided a brief background with the intent of focusing our discussions. He noted that staffing levels for IT/SA have been problematic for a very long time. Steve went through some of the issues which he could recall:
A trend towards more work / less staff
Wiring crew layoff--the layoff IFAS IT's wiring crew (back in 2002 Steve believes) was a staffing reduction which did affect the Server Administrators group because Chris Leopold has since had to handle wiring tasks which still arise on occasion today.
Centralizing Exchange - More recently Dwight Jesseman left to implement UF Exchange. When that decision was announced without prior notice or discussion at the August 2006 ITPAC meeting, it was pointed out at the time that Dwight did far more for IFAS than merely operating our e-mail system and that the loss of his position would be a blow to the server administration group.
Close shave on outsourcing - Next came the request to CNS for proposals to outsource the WAN and IT/SA groups. This was made known to Chris Leopold, because his input was needed by CNS; however, Chris was instructed to keep all details to himself. Despite Chris's efforts, rumors leaked and caused considerable and widespread concern. After discussions with Dan Cromer at the ICC meetings and through efforts by Dan, Steve and Chris were given the opportunity to review and provide feedback on the proposals--provided that details were kept only to themselves. The end result was that the WAN group was outsourced and IT/SA was spared. It should be noted that CNS accurately portrayed the situation when they indicated that IT/SA was understaffed and that CNS would require more staff to do the job that IT/SA was already doing for IFAS. Discussions among IT/SA staff at the time made it very clear that they did not believe CNS could, would, or even intended to provide the same level of support in any case--regardless of what they charged.
Fallout from WAN transition - Chris Leopold has had to devote an inordinate and unanticipated amount of time in this transition though there is some hope that this will improve in the future.
IT/ICS/EMR (Office of External and Media Relations) reorganization - With very little information forthcoming the ICC became concerned that this reorg would again threaten the already too-low staffing levels of the IT/SA group; there had been discussions between Ashley Wood and Dan Cromer about moving Mark Ross's position out to ICS. Dan at first said that it was too soon to discuss the matter, but then suggested that Steve request that the ICC have input into the process before any decisions were made. Steve made that request to no effect.
Confidence in IFAS administration support shaken
All these happenings have not gone unnoticed by unit support staff--especially at remote sites--many who have increasingly hoped to rely on IT/SA support staff and the services they provide. There has been concern that we might begin movement back towards a more distributed system in order for units to obtain the services they desire.
Bottom line
Steve summarized by saying that he believes our concerns could be addressed if two basic needs could be met:
Involve IT staff more in the decision making - Those in the trenches who understand the details of how IT services are provided have to fight mightily for input to an administration who increasing seems to believe these services are ?commodities? that can be supplied by anyone rather than strategic resources to be closely and carefully managed for the benefit of IFAS.
Continue to look at options for increasing resources - IFAS needs to keep these most crucial resources in-house and find ways to provide them the resources they need to move us forward. The server administration group is too thin already. We need more FTE there?not less.
Budgets and cuts
Joe began his response to Steve's introduction by focusing on our recent and upcoming budget woes.
Staffing issues acknowledged along with troubled times
After a quick introduction of those present, Dr. Joyce began by saying that the entire education system in the state of Florida is under a lot of stress right now. IFAS took a $17 million cut in one fiscal year, which amounts to about 10.6%; we have never had anything like that happen before. Dr. Joyce fully accepted that the staffing level issues which Steve mentioned had started well before that, however, and he added that Chris Leopold and Dan Cromer remind him of that fact frequently.
Joe could not promise that staffing levels would improve, but he does recognize that staffing levels are about as low as they can possibly get for IT/SA to provide the services which they currently do.
IT/SA was spared during the current cuts
Joe went on to say that IT/SA has not been singled out any worse than anyone else however; in fact, it took less of a hit than some other places as many of those working at the units know. Originally when these cuts were being worked out there were 129 positions that were identified for elimination; in the end, about 49 people in positions were let go. The difference was made up by individuals retiring or faculty taking over the responsibility for funding of those positions from grants and other funding sources.
Future budget outlook is not bright
Joe then backed up a bit and provided a look at our budget prospects going forward, which truthfully do not look very good. Of our current 2008-9 budget, the Governor is withholding 1% each quarter; they are sending 24% rather than 25% of our allotted fund each quarter. It is pretty obvious that this is a 4% cut off the top. There has been talk in the papers about dipping into "rainy-day" funds to provide cash to offset that cut. Unfortunately, those are not recurring funds, but rather one-time funds. Even if those funds are forthcoming, by July first of 2009 the 4% cut will remain in effect and will have to be absorbed at that time. In addition, all state agencies have been told to prepare for another 8-10% reduction on top of this.
Joe believes there is a realization within the government that we cannot continue cutting funding for education and still maintain the economic fiber of this state. Although it may sound a bit self-serving when we make that case, Joe believes the business leaders across the state are beginning to concur.
Lottery revenues are down
One of the ways the legislature ameliorated the IFAS cut this year was by providing $3.4 million increase in lottery dollars. Unfortunately, lottery revenues are down due to the general turndown in the economy, so the overall budget outlook is not good.
Tuition raises won't be enough
IFAS gets less than 30% of its money from students--for the teaching aspect of our budget. We get $154 million for research and extension which is the biggest portion of our general revenue allocation. Many say tuition levels are a problem; 96% of the kids that attend UF are on Bright Futures Scholarships. That means they pay $0 for their education here. Consequently, every time the legislature says we can increase tuition, the legislature has to pay the bill; this leads to a real reluctance for them to increase that. Until Bright Futures is decoupled from tuition, they place a cap on it, or something else is done, increases in tuition are not going to help UF that much.
We are, however, one of the universities which did receive differential tuition. We are allowed to raise tuition on incoming freshmen 15% from now on; that increase is lessened however by whatever level of increase the legislature approves. Thus if the legislature approves a 6% increase, we can raise tuition 9% above that for incoming freshman. But again, that is only a relatively small part of the IFAS budget.
IFAS has a large budget to manage
IFAS receives $154 million from the state in general revenue currently. Our total expenditures including contracts and grants however, are close to $300 million. These other sources of funds are why we were able to retain as many employees as we did. Most of the grant and Foundation monies are controlled at the faculty level; when faculty saw they were going to lose their technicians many used those funds in order to retain their staffing levels.
How the recent staffing cuts were selected
Joe stressed that our faculty are the economic engine that drives IFAS and UF. Those are the people who teach and who garner grants. Dr. Cheek doesn't obtain grants, Dr. Joyce doesn't obtain grants, and the Deans do not obtain grants--it is just the faculty. Students show up to be taught and we have to have people in place to teach them. That is why the number one goal in planning for these cuts was to protect faculty. There are, however, eleven faculty positions that will go away over the next two years or so. Those involve faculty who are in the Drop program and whose positions do not really meet our current overall program goals. We are not going to lay them off, but they know those positions are not going to be replaced. There are other faculty positions held by Drop participants that are deemed critical and which we feel we must replace.
In looking at how to handle the necessary cuts, staff across IFAS were divided into three categories:
Technical Staff (Biological Scientists, chemists, etc.)
Infrastructure Staff (including IT support personnel, mechanics, farm workers, etc.)
Administrative Staff (accountants, fiscal personnel)
These distinctions were made in part because Infrastructure and Admin personnel cannot be placed on grants. The Technical Staff, however, can be paid from grants.
Joe realizes that Infrastructure and Administrative Staff can only be cut to a certain extent if we are going to be able to remain functioning. We have no other sources of funding for those, however, except from the state. Administration realizes this and had to watch closely how those sectors were handled. Joe used IT/SA as an example of that. Overall, IT lost five positions, but none of those came from IT/SA. Administration understands that there is a basic level of support needed to keep our switches and servers running and respected that in making these recent cuts.
The SA/WAN proposals from CNS
Joe then responded to the outsourcing proposals that had been solicited from CNS.
The WAN proposal appeared to offer better service at less cost
Anytime IFAS Administration looks at outsourcing a function, be it the Mailroom, the Print Shop or Exchange, we have always evaluated such moves based on getting better service for less money. If a situation arises where we can meet that criteria then we will make the move. IFAS Administration went to CNS and asked for proposals to hand over to them the LAN and the WAN groups; this has been discussed for years and should not be a surprise. It turns out that we saved $35 thousand a year by outsourcing the WAN group. Joe added here that he hadn't been aware that this transition had created additional work for Chris Leopold.
CNS could not offer improved service or cost for our server administration functions
The other proposal for our server administration was $90 thousand more than what we are spending currently and didn't even cover a number of the services which IT/SA is currently supplying. Consequently, that proposal was not a good deal and was rejected. That is (perhaps backhandedly) a significant compliment about the work that IT/SA does. Joe stated that he has always believed and told people that IFAS IT operations has always been three to five years ahead of the rest of UF--and it still is. That's why CNS couldn't step in and do what IT/SA does.
Restructuring of IT, ICS and EMS
Joe said that these three units are all related in their mission and the sense across IFAS was that they were not coordinated well enough. A committee comprised of faculty looked at the matter and decided that we needed to look into this. As a consequence, Dan Cromer, Ashley Wood and Jack Battenfield generated a proposal of how that might be handled. The structure they proposed was frankly not much different than things are currently.
Moving the web administrator position out to ICS
Joe said that nobody has proposed that to him, but it would not seem to him to make sense and doesn't believe we need be concerned that such a move might happen.
Confidence in the ability of IT/SA to provide needed services
More units are moving resources centrally
Dr. Joyce noted that his impression of overall confidence in IT/SA was exactly the opposite of what he had heard indicated. Several units had let IT support staff go during the recent layoffs and asked the IT/SA group to replace locally managed file services. To him, that indicates that those departments believe IT/SA is doing a good job.
Incident reports speak highly of us
Each quarter when Joe gets the security incident report it is clear that IFAS IT is a leader on this campus. It's incredible how few incidents there actually are and how fast we respond to them. Joe recognizes that IT/SA does a great job with that.
Joe has great confidence in IT/SA and the way the ICC is pulling folks together
Speaking for himself, Dr. Joyce said that he has all the confidence in the world in the IT/SA group. He mentioned how the ICC has helped bring the various units together so we can talk out issues and begin to work better as a whole. Joe gave the example of Animal Science back in the days when Kathy Bergsma was providing IT support there. Kathy was just doing what her chair and the faculty wanted, but at the time she fought tooth-and-nail to keep their IT support separate from the rest of IFAS. Joe ran into her after she took her current position and she related that she had been so wrong. Now that she can see things at a higher level she realizes the value in getting everyone working together.
Server Administration a commodity?
Concerns that service level details may be overlooked in future decisions
Steve had the concern that administration views IT/SA as a commodity that can be moved from IFAS to UF without great consequence. He fears that if costs are seen as the prime consideration without seeking better input into the level of service details, mistakes are likely to be made which we would all regret. Steve stated that he hoped we could find better ways for IT staff to have input into such decisions in the future.
Input was heard and heeded
Joe responded that Dan and Chris were given the opportunity to provide input and based on their feedback the LAN proposal was rejected. Joe didn't see the need for input from the ICC on the matter.
Joe understands the importance of maintaining control over strategic IFAS resources
Joe took some exception to the idea that the services of our server administrators are viewed by administration as a commodity. Joe certainly doesn't see it that way.
Opportunities for improving two-way communication with upper administration
Seeking two-way communication between ITPAC and administration
Steve asked if there was any way communications could be improved. Currently, the ICC makes recommendations and proposes those to ITPAC who sometimes concur. There have been a number of occasions, however, where that has been the end of it. While realizing that these are recommendations only, Steve is troubled by the fact that there is really no interaction between ITPAC and administration. Recommendations are sometimes implemented and sometimes not, but it is rarely if ever the case that administration comes back to ITPAC and explains why a recommendation was implemented or not. Steve asked if there was any way to implement that last step in the communications process which is missing from an otherwise excellent system.
How ITPAC recommendations have been handled recently
Joe gave the example of two issues from last month's ITPAC which were on the VP/Dean's agenda shortly afterward. It turned out that there was insufficient time to cover those, so Joe sent those to them via e-mail to see if they had any issues with them. The Listserv IMM was approved and implemented--but Joe received an e-mailed complaint from one of the deans that a notice he had sent to the Announce-L late last night wasn't approved until 9 AM this morning. Consequently, something is going to be done to fix that.
Perhaps Dr. Cheek can discuss his views of this matter at ITPAC
Joe stated that he did understand that a communication problem does exist as Steve had noted. He has thought of getting Dr. Cheek to come to an ITPAC meeting to talk to the committee members there about how he sees things from his level. Perhaps that would help.
Access to high level meetings not an option
Steve mentioned that in the past the ICC had discussed among itself the possibility of having an ICC representative attend some of the higher-level faculty and/or deans meetings as a means of improving communications. Joe responded that those meetings are management meetings and are not open as such.
Moving forward
Reorganization may take a while, but a direction has been set
It has been proposed that IFAS implement an Assistant VP position in charge of IT. Joe commented frankly that the IFAS faculty would not support the creation of another position at that level, so that will never happen; we don't have the money currently to fill any faculty positions, much less that. But Ashley and Jack are both less than one year away from the end of their Drop period and we do plan to eventually have one person in charge of what are currently the three separate units. Joe believes we will then be better off in having someone at a high level that wakes up each morning thinking exclusively about what IFAS can do to improve our IT functions.
Appreciation for Dr. Joyce's support
Chris Leopold expressed his appreciation for Joe's support, though Joe replied that he feels he has let them down at times. Chris wanted to alleviate any fears that units might have in utilizing central IFAS IT services. He noted that there has been some hesitancy in that regard due to recent happenings. People have been concerned about moving resources beneath IFAS central IT services should those services be threatened with going away. Joe responded that these services are necessary and they will always be supported; we are not going to abandon that aspect because we couldn't afford to do so.
Appreciation for IT/SA
Wendy Williams added the comment that our IT/SA staff is top-notch and the amount of work which IFAS gets out of them for what we are paying is just phenomenal.
A fresh perspective
Joe asked Ken to share his viewpoint as a person new to our organization. Ken replied that he has been working closely with Chris Leopold and Andrew Carey and that he approves of their approach to improving how services are managed for Animal Sciences. Ken stated that he was just starting out at Animal Science, but is rapidly getting up-to-speed with his duties there. He mentioned that he came to us from a 30-year career with FPL; what IT/SA is trying to do is something which has already been done in private industry and which Ken believes is a good way to go.
Joe noted that the educational environment is much different than the corporate world where there is an IT "Czar" who dictates all IT policies. In our environment we must be much more flexible to the various competing needs of our faculty. That said, the current trend seems to be toward the centralization of certain IT services to take advantage of the economies of scale and to stretch our scarce resources a bit further. While some places are big enough to support some of these things at the unit level, it no longer makes much sense for many of our units.
Dan Cromer has offered IFAS IT assistance to CLAS in moving to UFAD and Exchange
Dr. Bernard Mair sat in on the meeting via Polycom with Dan Cromer. Joe mentioned that Dan had offered CLAS our assistance in getting their IT operations more uniform, streamlined and integrated. Joe said that the ICC should take that as a compliment that the IFAS system might be held up as a model for others at UF to emulate.
A parting suggestion from Dr. Joyce
Joe mentioned that he is always willing to come back and visit with us in the future should we wish. Before leaving, he wanted to emphasize that the best way for the ICC to get the ear of upper administration is through their department chairs and their faculty. It is input from those folks that will catch the attention of the deans and that would be our best means of affecting change--by building faculty support at the unit level.
Finally, Joe encouraged us to continue to provide the quality service that he truly believes we do. The ICC thanks him for his time and input.
---
Policy
---
Shibboleth and Identity and Access Management (IAM) at UF (see prior discussion)
Steve asked if anyone had any news on this topic. Chris Leopold related that he had received confirmation that this was not intended as an across-the-board replacement for the NTLM authentication we use currently with IIS.
Report from the September ITAC-NI meeting
Steve mentioned that he will be working on the minutes after writing the notes from this ICC meeting. The bare-bones of that is already in-place providing the agenda items that were covered. Some of the discussion there had to do with Chuck Frazier's appointment as Interim CIO for UF and how that may affect the currently dormant ITAC and its various sub-committees.
Comprehensive IT risk assessments will be REQUIRED soon
Steve asked if there was something which the unit IT staff needs to be doing that we aren't. Wayne Hyde said that there was, but that he hadn't had time to work on that yet. Dennis Brown added that each department is supposed to report by sometime in November. His impression is that they are just asking that units get a good start on this by selecting and examining two areas with regards to security. Steve asked if Dennis had picked two areas for his department yet. Dennis answered that he had not, but that this was not supposed to be done by IT support but was to come out of a small committee which was organized at the unit level. Steve asked if anyone had a committee yet in their department and no one appeared to have gotten that far.
Update on changing the Barracuda default settings
(see prior discussion)
The continuing saga...
Here's a brief recap of the highlights on this topic since we seemingly had been successful in an epic quest that began in January just after the Barracuda was first implemented:
May 15th - Dan forwarded to the ICC-L a message from Mark Rieger stating that the ICC Recommendation for Barracuda management had been passed by the UF Exchange Advisory Committee.
June 20th - Time had passed with the ICC receiving no implementation details, but apparently UF Exchange had provided Dan Cromer with a list of 135 high-volume e-mail users on June 20th.
July 3rd - Steve learned about the list Dan had received after querying him about progress on implementation. Dan indicated at that time that he was preparing an e-mail documenting the implementation plan, but did not indicate details of what exactly would be required.
July 11th - At the July ICC meeting Dan said he would be sending the ICC a list of our high-volume users.
July 14th - The ICC received that list along with drafts of the e-mail announcements which Dan intended to send to IFAS-Announce-L and individually to those high-volume users. While Dan indicated that local support staff was supposed to contact their high-volume users, there was no indication that it was unacceptable for those to remain configured to accept the defaults.
August 8th - At the August ICC meeting Dan stated that the planned change in the Barracuda default settings would be temporarily delayed because the UF Exchange team didn't want two major changes (Mail Meter archiving and Barracuda default settings changes) to occur at one time.
August 10th - Steve learned from the UF Exchange team that the changing of the defaults would not occur until those on our list had been configured to not use the default settings!
August 11th - Dan Cromer told Steve that he was unaware of this and asked him if he would announce this to the ICC.
August 12th - Steve began a series of "Assistance needed to implement new Barracuda default settings" e-mails to the ICC distribution group. Dan suggested utilizing SharePoint and Ben Beach assisted in creating a collaboration site for the ICC.

August 27th - Dan Cromer met with the "UF Exchange Project Team". According to Dan, Mike Conlon was considering a request to implement a script to move all our high-volume users off the default setting. While Dr. Conlon seemed closer to agreeing to that, he wanted to wait until the workload on the UF Exchange Team slacked-off a bit.

Dan also met with the "UF Exchange Support Committee" (whose existence has not been documented as far as Steve knows and where--unknown to the ICC--implementation details for the Barracuda settings change plans had been made available to tier 2 support since mid-May). This committee is comprised of


Antley,Dallas N; 
Bache,Robert; 
Bailey,Dwight A; 
Barnes,Mattthew S; 
Bautista-Hardman,Arthur H; 
Bellaire,Adam P; 
Busby,James L; 
Casiano,Jason; 
Chaney,Willie L; 
Christophy,Daniel J; 
Crisman,Daniel F; 
Cromer,Dan; 
Essex,David; 
Haring,Peter T; 
Harkness,Ira; 
Heeter,Jason P; 
Hendricks,Rodger E; 
Hughes,Chris; 
Jesseman,Dwight; 
Johnston,Jameson D; 
Kanofsky,Michael L.; 
Kisida,Todd; 
McDonell,Frances C; 
Owens,Scott; 
Palmer,Elizabeth (Lissa) P.; 
Robinson,Mark A; 
Sanders,Ronald K; 
Schmidt,Erik C; 
Smith,Paul G; 
Sposato,John; 
Staats,Robert E; 
Tran,Kiem


August 31st - The most recent ICC goal was to have all our high-volume users handled by the end of the month. While many support folks joined the effort a number of problems were discovered. A significant number of individuals had left IFAS or were otherwise impossible to contact. Short of some unlikely combination of leniency by Mike Conlon and/or broader effort involving all IFAS support staff (not to take away from all those who did assist) we will have to hope that a scripted solution is eventually forthcoming.
Clarification sought
Dennis Brown asked for a clarification on exactly what was expected. Steve replied that we are supposed to change our high-volume users setting so that the current default settings are specified manually; that way they will be unaffected by this transition. If those individuals are willing to listen to an explanation (and a number are not), we can then go into the details and discuss how the scores might be modified to suit them better.
Steve noted that the changeover was supposed to happen at the end of June, but Dwight ran a query at that time and saw that virtually none of our high-volume users had been moved off the defaults; that is what halted deployment. Steve wasn't seeking to lay blame, but did note that it was frustrating that we have had to put so much time and effort into a change that should have been a relatively minor matter to accomplish. This is just one demonstration of unanticipated problems which can arise when moving critical services from IFAS to UF; we are now part of a larger organization in this regard and must coordinate such changes with everyone involved.
The overall management of UF Exchange involves a number of committees/groups
UF Exchange Advisory Committee - These meetings are scheduled by Dr. Conlon. They occur on a roughly monthly basis on Wednesdays at 3:00 PM. IFAS is represented by Mark Rieger.
UF Exchange Management Team - Dr. Conlon schedules these meetings but the time and frequency is not known.
UF Exchange Project Team - These meetings are also scheduled by Dr. Conlon. They occur weekly on Wednesdays at 9:30 - 10:30 AM.
UF Exchange Support Committee - These meetings are scheduled by Fran McDonell on a weekly basis. They occur on weekly on Wednesday at 2:00 - 3:30 PM. Fran reports back to Dr. Conlon if the group has important input.
UF Exchange Technical Committee - This is a distribution list which George Bryan created at the request of Dr. Conlon, a year ago. Dwight brought the matter up at the UF Exchange Support Committee to get it removed as he thought it was confusing. It should be removed soon and should not be used.
The UF Exchange Project Team is where the Barracuda implementation discussions occurred and where those decisions were made. The UF Exchange Support Committee was where the Barracuda discussion was repeated to tier 2 as an informational item for implementation.
Update from Dan Cromer
Dan also mentioned that Mike Conlon has shifted positions somewhat and is now willing to accept that contact has been made with these individuals and those who have not been moved off using the defaults do not care that these changes will affect them. Consequently, we all need to continue to update the list posted on SharePoint to document whether not individuals have been handled in that manner.
A scripted solution is ready and waiting...
Wayne Hyde relayed a message from Dwight Jesseman that the script for making the proposed changes has been written and tested but is just awaiting Dr. Conlon's approval. That would be Steve's preferred solution because that would negate those users from seeing any effect of the change and we could move ahead immediately; an inordinate amount of support time has been devoted to this matter already in his opinion. [ARGGG!]
Dwight Jesseman raised the topic of VoIP status via e-mail. Steve related that he has heard Dr. Joyce say that VoIP implementation will be a department-level decision. Chris Leopold added that McCarty D and part of McCarty B are starting to get cell phones and VoIP.
Wall Plate is not optional for IFAS units?
Dennis Brown then asked if Wall Plate participation was non-optional for IFAS departments on campus. Dan Cromer responded that Wall Plate was not optional while VoIP was. He has been trying to get the Wall Plate implementation schedule updated, as that has not been done in over six months and things have changed considerably. Dan mentioned that two proposals are currently on the table, one for Fisheries and Aquatic Sciences and another for Microbiology and Cell Science. In those situations, the departments did not have the funding necessary to move to VoIP (initial and continuing phone costs).
Yes, Wall Plate is still optional
Steve asked Dan who within IFAS had taken the authority to say that Wall Plate was not optional for IFAS units on campus--as Steve had not heard of such a change. Dan then recanted saying departments did have the option to decline Wall Plate but that he would definitely want to talk with the chairs of departments who intended to decline a free implementation of the Wall Plate service.
Departmental costs for joining Wall Plate can be considerable
Steve, Chris and Dennis all took exception to the "free" portion of that statement. Replacing workgroup switches with direct drops will cost Entomology on the order of $16,000 and replacing inter-floor copper runs with fiber at Horticultural Sciences is being done at a departmental cost of $14,000 so they can meet Wall Plate standards. Many departments will incur considerable cost should they wish to participate.
Creative funding methods are being negotiated
James Moore said that CNS recently has gotten more creative in finding ways to fund the wiring remediation which many units require. They are working with Facilities Planning and PPD. As an example, James was able to re-pull all the cabling in Wendy Williams' area. There are monies available for infrastructure; it just depends on how they finagle the budget. CNS cannot fix everything as they don't have unlimited budget either, but they are making considerable effort to assist with remediation where they can.
The consolidation of IT, ICS and EMR
This matter was covered in the discussion with Dr. Joyce above.
UF Exchange Project updates (see prior discussion)
Report from the August 29th UFAD/Exchange meeting
Steve noted that he had posted an audio recording of that meeting that is worth a listen for those who were not in attendance. Among other things, the UFAD team discussed a useful web-based tool (ufad\if-admn credentials required) of which we should all be aware. Steve has posted a link to that in the "Useful Web-based tools" section of the IT Service Documentation (ufad\if-admn credentials necessary). Steve took a brief tour through that interface noting some of the fields of import; the Gatorlink forwarding setting is just one such item.
Steve mentioned that UFAD has a new hire, Michael "Buck" Buchholz who was at the meeting. Buck will fill-in the developer slot which has been sorely needed since George Bryan left some time ago.
Mail Meter deployment scheduled for Monday
Dwight Jesseman shared a notification on deployment of the Mail Meter attachment archiving solution: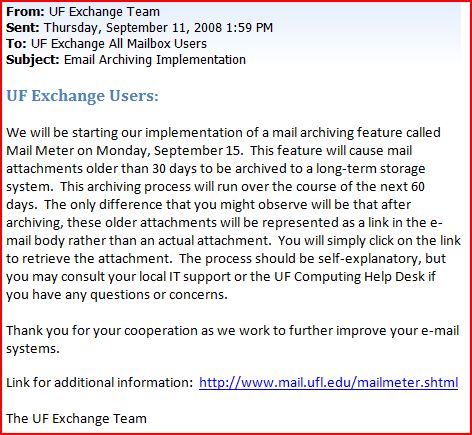 Steve had not seen this, perhaps because he is already using that system. Dwight noted that they will be addressing the largest mailboxes first and larger numbers of folks will be affected as this progresses over the 60 days. They have estimated that the space saved on Exchange will initially include the following: 338GB of PDFs, 211GB of JPGs, 210GB of DOCs and 95GB of PPTs.
PST import procedures
Chris Leopold asked about procedures for moving PSTs back into Exchange. Dwight said that this should be coordinated via the UF Help Desk so that the Exchange Admins can temporarily bump the quotas on their accounts up to the mailbox store limit. Dwight noted that there is a 20 minute interval from the point when the quota change is marked in the user interface and when it actually takes effect. Following this procedure, however, will leave room for the import to proceed without issue and the next day the quota will be readjusted as needed.
Student mail to move to Google Gmail?
Having heard no more about this, Steve was assuming that this has been dropped and had plans to remove it from our next agenda. Dan responded that this is very much still alive. Dr. Frazier had raised the issue at a recent ITAC-DI meeting. A plan was apparently developing to begin implementation the first of October. Security and other concerns have delayed that now, but the move is still being considered. Dr. Mair reported that there were contract issues between UF and Google that still had to be sorted out.
WAN transition to CNS (previous discussion)
This topic was covered this month within the "Meet James Moore" item within our Operations section and the topic will be moved to our Operations section on future agendas.
Split DNS solution for UFAD problems
Steve wants to keep this on the agenda for future reference and noted that it was another topic discussed at the recent UFAD meeting. Andrew Carey related that they may have some possibility of addressing this with deployment of our next generation DCs.
---
Projects
---
There continues to be no progress on the documentation which was to happen prior to announcement. Since this has never been formally announced, the matter remains on the agenda as a standing item.
Vista Deployment via SMS and WDS
Steve mentioned that he would love IFAS to supply a supported WDS server that we could PXE-boot to for machine deployment. He has high-hopes that this will be possible one day; that could certainly save a great deal of individual time and effort by our various unit IT staff as well as the IFAS Help Desk.
Chris Leopold shared the new software site which is currently under development (ufad\if-admn credentials required). It looks very good and when implemented will omit yet another separate web domain from our long list of web sites. Chris would appreciate any input as to what should or shouldn't be on this site, so please take a look and provide him your feedback.
Though Steve neglected to add this to the agenda, he wanted to point out that the ITPAC site has been reworked thanks to the efforts of Marion Douglas, Mark Ross, and especially Chris Miller who did nearly all the translation work. The site has now been integrated as a folder beneath IFAS IT and utilizes the SFYL templates. Inward links from the ICC site remain broken for the time being because the site structure was changed. Steve plans to go back and fix those at his first opportunity.
Exit processes, NMB and permission removal (prior discussion)
Steve wants to leave this matter as a standing agenda item for future discussion. Dan had mentioned at our last meeting, as well as at the recent UFAD meeting, that he has been working hard to get this matter addressed at the UF level. This is a very important matter which we certainly hope can be greatly improved some day in the not too far distant future.
Re-enabling the Windows firewall
Note from future: On the evening of September 17, Wayne (sleep--who me?) Hyde related that he has been working on getting the XP firewall enabled and will hopefully be pushing it out to some test machines next week. He'll query the ICC for any exceptions that need to be made aside from enabling remote administration of XP boxes.
---
Operations
---
Meet James Moore
Dedicated WAN engineer
James introduced himself as the individual dedicated by CNS to resolving IFAS WAN issues. He stated that his salary is funded through a $120 thousand annual payment from IFAS to CNS; consequently he has a vested interest in our happiness and approval for the success of the WAN transition. James is backed up by other core engineers who work on the campus network as well as those engineers working for FLR, which is a service provider to many of the WAN sites.
Problem diagnosis and communication issues being addressed
CNS also has software developers working behind the scenes to develop a collaboration method for ticket submission and follow-up using the CNS Remedy and IFAS Remedy systems. James is drafting a problem reporting procedure so that district support will know how to interactions should run, and they are trying to get district techs access to the CNS Nagios monitoring system as well.
Team building for problem resolution is an early goal
James mentioned that Chris Leopold has likely spent more time than anticipated in pulling together the information for James concerning all our various sites and connections so that those can be integrated into CNS's existing systems. In this first year, James is focusing on router end-points. He will be relying heavily on the district techs initially to provide him feedback on triage areas--learning which areas are likely to be our trouble spots, focusing on locations where upgrades are most needed and detailing how they can best interact to make this transition successful.
CNS integration to existing equipment being tested
James has ordered about eighteen Cisco 881 routers and Ryan Vaughn is working with James in the lab to do some testing of the IFAS HP switch gear with current CNS policies and feature sets. They are figuring out how they will push new code images to the network devices and get their SNMP management integrated with those as well. Progress is being made behind the scenes though that may not yet be readily apparent to those in the field.
Long-term Wall Plate experience
James explained that he came to us from the Wall Plate program having been Russ Poole's first network engineer. He helped start/pilot the Wall Plate program and has worked through the many management changes that have occurred at the administration level as to how that would be implemented--continual cost model changes and the like.
Welcome
Steve welcomed James on board and said that we all look forward to working with him.
WinXP SP3 upgrades needed for Volume Shadow Copy
We need to move to WinXP SP3
Support for installation of Windows XP SP3 will end in April 2009 and overall support for Windows XP SP2 will end July 2010, so technically we do have some breathing room; however, SP3 has been out quite some time and most issues and their fixes have been well documented. Wayne explained that this is also important due to our impending implementation of Volume Shadow Copy on the new file server cluster. Having the "Restore" button active within shared folders could be quite problematic. WinXP SP3 includes the necessary "Twext.dll" to allow the disabling of that button. A hotfix is also available for SP2 that will add that file, but Wayne feels it is time we upgrade.
Dealing with issues
Wayne has been deploying WinXP SP3 via WSUS for Food Science and for Plant Pathology in addition to IT. So far that has failed on about 40 machines for reasons yet to be determined. Wayne plans to keep his eye on that and get the kinks worked out.
Issues with AMD processors should not be a problem for us because we have been pushing out the hotfix on that for the last two months.
Steve noted that the Shared Computer Toolkit he uses currently in his department's computer lab for its Windows Disk Protection feature (ala Deep Freeze) is incompatible with SP3. Steve will have to uninstall that and upgrade to Windows Steady State before he can apply SP3. Those using any type of disk protection will want to apply SP3 manually prior to rollout so that machines don't get stuck in a cycle of installing that, rebooting back to SP2 and then installing again.
Steve mentioned that he updated the notes from our July meeting with a link to a Knowledgebase article explaining the issue Fergie had noted with an immediate upgrade to SP3 after installing a fresh copy of WinXP SP2.
Steve asked Chris Leopold where we were on this matter. Chris responded that considerable progress has been made and many obsolete entries have been removed. Chris said that this is something which he wanted to address for the last three years and he is pleased that most of this work has finally been accomplished.
MPS access by unit-level administrators
Andrew reported that they had met with UFAD yesterday to go over configuration and management issues. It was decided that the Hyper-V core as well as the virtual MPS server will managed by IFAS. It also appears that we can be Administrators on the RODCs as well since they will only contain the credentials of individuals local to a particular site. The test servers arrived this morning.
These machines will be 2U 2950s with a single box at each site rather than the pair we maintain currently. They will contain 5 250GB SATA drives. Four of those will be configured as RAID 10 with the fifth as a hot spare. They will also contain a sixth drive which will be 1TGB and used as VSC backup. That will give the machines something just shy of 400GB of file server space. That should be sufficient for most CEOs.
For sites needing multiple Terabytes, IT/SA is working to help provide adequate server space which they will assist in managing. Apopka, for example has about 4TB of space via a 2900 tower system. Those opting for this larger solution will have physical rather than virtual DCs.
Controlling power settings via GPO preferences
Steve wants this topic to remain on our agenda because he believes administration will insist on power control at some point.
Steve believes that Matt Wilson hadn't had the time to do any more on what was discussed two months ago. This service will have to be migrated to a newer machine and SQL version if it is to remain available, however. Matt said that he does have the reporting services running on the new version of SQL and he would recommend that the reports be rebuilt from scratch. He is willing to do that but would appreciate input on what sorts of queries folks would be interested in seeing. Steve mentioned getting lists of machines with vulnerable versions of third-party software applications would be one very useful item to have.
Wayne noted that two departments, IT and Agricultural Education and Communication, have already been moved over to the new file cluster. Others will be moved over once SP3 has been applied to all WinXP machines in their unit.
Wayne mentioned that the new ePO agent must be installed manually on systems using disk protection (Deep Freeze, etc.); this is also a concern if you have machine images you are deploying that have the older client installed.
[Log on with admin credentials and apply "UFAD_ePOAgent_CMA4.exe" from \\ad.ufl.edu\ifas\SECURITY-TOOLS\ePO-Agents]
He noted that the old ePO server still has over 100 machines connecting to it for various reasons--including some outside IFAS! Steve suggested posting a lists of those to the ICC-L so we can get the agents updated on those and get those connected to the proper server.
Status of SharePoint services (prior discussion)
Ben Beach is close to moving our services onto new hardware; that will allow him to enable external authentication for collaboration with groups outside of UFAD.
Steve wanted to point out something which Dan Cromer recently reminded him of, namely that a bridged conference can be joined by entering the IP# of the bridge (if you are aware of that) followed by two "#" signs and then the Conference ID. Video Services wants to avoid publishing the direct IP# of the bridge however.
There were four critical Microsoft patches this month. Steve has heard no major issues with deployment of those.
MS Office News update
Andrew Carey had previously mentioned the Office 2007 tutorials which allow one to locate where commands have moved to between the Office 2003 and Office 2007 versions. Steve wanted to point out that these tutorials are also available for download (each of which extract to a single Flash file) for Word, PowerPoint, Excel, Outlook, and Access (among others). Now that Steve is putting out Office 2007 on new machines, he adds a "Learn Office 2007" folder to the "All Users" desktop on his machines which contains these flash files for convenient access by his users.
For your convenience, Steve has located these files at \\ad.ufl.edu\ifas\SOFTWARE\MSOFFICE2007\Learning_Office_2007
Public folder file deletion policies and procedures status
Wayne announced that general upload access to the Public folder is going away. Folders will be generated for individuals only on a by-request basis. Wayne mentioned that they plan to develop a web-interface for file sharing across IFAS--or individuals can use SharePoint.
Job Matrix Update status
Steve wants to leave this matter as a standing agenda item for future discussion.
Steve wants to leave this matter as a standing agenda item for future discussion.
---
The meeting was adjourned on-time at noon